What does "Ghost-Free" mean?
From food, fashion, entertainment, product testing and biomedical research, the Ghosts are the billions of (invisible) animals used within global consumer industries.
"Ghost-Free Journey"; "Ghost-Free"; "For The Ghosts"; #fortheghosts … this language has become synonymous with THE GHOSTS IN OUR MACHINE cross-platform documentary.  To be "Ghost-Free" literally means to be vegan, and a vegan is someone who chooses to not eat or use animal products.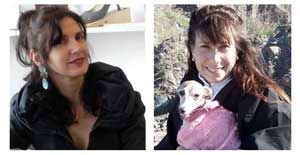 Donna & Rosemary,
Ghost-Free Journey Mentors
The Ghost-Free Journey (GFJ) is facilitated by Donna Oakes & Rosemary Tarentino Foos, together they foster and inspire an accessible learning experience for a broad spectrum of people interested in a Ghost-Free lifestyle. Since 2011 they have conducted a total of 14 GFJ's with 44 participants through "The 5-Day Ghost-Free Journey" (GFJ). It started on Facebook and then migrated here to the film's website. Donna & Rosemary tailored journeys specific to the needs, questions and pace of individuals. Check out our archive of "Previous Journeys".
A Message from Rosemary & Donna:
2014 Sees the Return to Facebook
It is our aim now to extend our reach to a broad spectrum of people at different stages of their Ghost-Free Journey.  We will engage in and foster ongoing dialogue, we will post pertinent information and resources, and offer encouragement for all, on Facebook.
Please "like" our Ghost-Free Journey Facebook page, see you there!
The more people we reach, the more animals saved!
For the Ghosts,
Rosemary & Donna