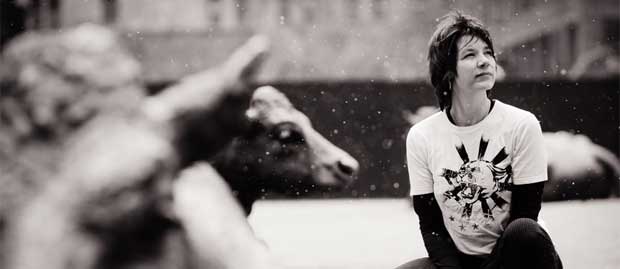 Photo courtesy of Jo-Anne McArthur
Director and producer Liz Marshall is an auteur filmmaker who fuses character-driven cinematic storytelling with social and environmental justice issues. Since the 90s she has created a body of award-winning documentaries shot around the world which illuminate a range of subjects including: animal rights; the right to water movement; HIV/AIDS in sub-Saharan Africa; sweatshop labour; corporate-globalization; the empowerment of girls and women; censorship affecting writers and journalists, and war-affected children. With a body of documentaries, shorts, television episodes and segments to her credit, Liz believes in the powerful platform of film/documentary to spur and elevate new perspectives.
Liz has a special interest in audience engagement and grassroots distribution, to further the impact of films in the real world.
FOR MORE ABOUT LIZ VISIT HER WEBSITE.
READ LIZ'S DIRECTORS STATEMENT
Marshall's most current work is the following:
THE GHOSTS IN OUR MACHINE (2013) a cross-platform theatrical and broadcast documentary that illuminates the lives of individual animals living within and rescued from the machine of our modern world. Through the heart and lens of acclaimed photographer Jo-Anne McArthur we become intimately familiar with a cast of non-human animals. A film, an interactive online companion to the film and a robust web and social media presence.
WATER ON THE TABLE (2010) a theatrical and broadcast documentary featuring best selling author, activist and public figure Maude Barlow and her crusade to have water declared a human right, protected from privatization.
Awards and Nominations: 2013: Top 20 Audience Favourite, IDFA; Mostra Animal Oscow Homage; Best Canadian Feature, Planet in Focus Environmental Film Festival; Special Jury Award, DMZ Docs; Top Ten Audience Favourite, Hot Docs Documentary Film Festival; Winner Golden Sheaf Award for Best Nature/Environment Documentary; Nominee Golden Sheaf Award for Best Documentary Director. Co-recipient of the 3rd Annual Lisa Grill Compassion for Animals Award, Toronto Vegetarian Association. 2012: Queen Elizabeth II Diamond Jubilee Medal. 2010: Nominee for the Donald Brittain Award for Best Social Political Documentary at the Gemini Awards; Winner of the Best Canadian Feature Film Award at the 11th Annual Planet in Focus Environmental Film Festival. 2010 Featured Canadian Film for Cinema Politica; 2011 Honourable Mention Canada's Environmental Media Association Awards (EMA's). Gold – Cable in the Classroom; Gold – Canadian Association of Broadcasters (CAB); Bronze – New York International Film Festival. short-listed for the 2005 Deborah Fletcher Award (CIDA); it won Gold for the 2005 Canadian Association of Broadcasters (CAB), and Bronze for the 2005 New York International Film Festival.