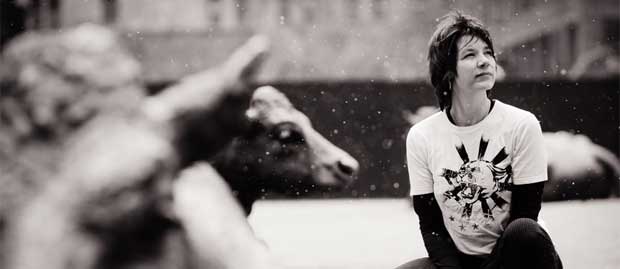 Photo courtesy of Jo-Anne McArthur
Director, Producer, Writer, Co-Cinematographer Liz Marshall is an award winning auteur filmmaker who fuses character-driven cinematic storytelling with social and environmental justice issues.
Since the 90s Marshall has created a body of international documentaries which illuminate a range of significant subjects through a global cast of compelling characters, including:
The Ghosts In Our Machine, featuring the work of animal rights photographer and author Jo-Anne McArthur; Water On The Table, featuring the work of best-selling author, water-warrior activist and public figure Maude Barlow; Stephen Lewis Foundation Trilogy, featuring the stories of women, orphans and grandmothers infected and affected with HIV/AIDS across Sub-Saharan Africa; Inside Your Threads, featuring musicians Sam Roberts, Jully Black and Hawksley Workman in sweatshops in Bangladesh and Mexico; The Globalization of Protest, featuring leaders and activists of the anti-globalization movement; Girls of Latitude, featuring MTV hosts Nicole Holness, Diane Salema, and Aliya-Jasmine Sovani in Colombia, Haiti and South Sudan; Voices of Dissent, featuring censored writers and journalists in Turkey; Musicians in the WarZone, featuring The Rascalz; David Usher; Chantal Kreviazuk and Raine Maida in former warzones Iraq, Sierra Leone and at the Thai-Burmese border.
Liz Marshall's feature length work is:
THE GHOSTS IN OUR MACHINE (2013) multi-award winning and nominated for 4 Canadian Screen Awards including a Donald Brittain Award for Best Social/Political Documentary.
A theatrical, grassroots, and broadcast documentary that illuminates the lives of individual animals living within and rescued from the machine of our modern world. Through the heart and lens of animal rights photojournalist Jo-Anne McArthur, audiences become intimately familiar with a cast of non-human animals. A film, an interactive online companion to the film, and a robust web and social media presence.
WATER ON THE TABLE (2010) award-winning and Gemini nominated (Donald Brittain Award for Best Social/Political Documentary) theatrical, grassroots, and broadcast documentary featuring best selling author, activist and public figure Maude Barlow and her crusade to have water declared a human right, protected from privatization.
Liz Marshall has a specialized interest in audience engagement and grassroots distribution, to further the impact of her films in today's new world of distribution. Following the global release of The Ghosts In Our Machine she produced and distributed a 2014 international Community Screenings campaign in 71 cities spanning 12 countries and 5 continents. A total of 92 unique events were hosted by a myriad of organizations and individuals. The campaign was supported by Women Make Movies, and the Bertha BRITDOC Connect Fund; Europe's only outreach and engagement fund for filmmakers.
Liz Marshall has a passion for music documentaries. Fresh out of film school between 1995-1996, Liz was commissioned by American folk icon Ani DiFranco and her pioneering record label Righteous Babe Records to create a multi-media archive of Ani on the road. Liz directed a unique collage-style portrait of Ani during her Not a Pretty Girl tour in parts of Canada and the US. In 2008, Liz directed the Rawside Of: The Bourbon Tabernacle Choir reunion for the unorthodox series The Rawside Of… for the Independent Film Channel.
Read Liz Marshall's Director's Statement
Learn more about Liz Marshall, visit her website