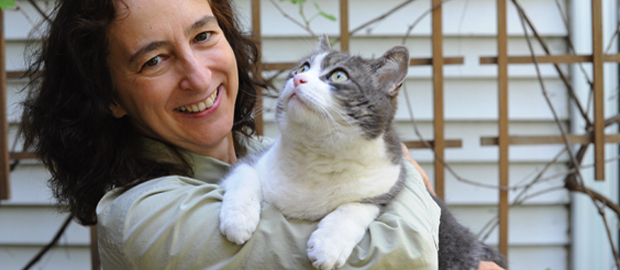 "The Ghosts in Our Machine' has opened my eyes to the escalation of humankind's clinical and heartless exploitation of animals in order to support our voracious needs. I am grateful to be able to participate on this important project."
Nina is an independent Producer/Creative Director. She is a creative thinker, skilled at managing concept development, timelines, budgets, projects and people. She has managed a broad spectrum of projects in the factual television and interactive media genres. Her award mentions include a Gemini  for Outstanding Technical Achievement and a Gemini Nomination for Best Cross Platform Project.
Recent projects include: Project Manager-www.docspace.ca; Producer/Creative Director-POP IT! (cross-platform/kids dance series); Producer/Director-SUCK IT UP PRINCESS (documentary); Producer/Creative Director-Cupid's Cafe/S-MasH (interactive); Producer-THE CALLING (film); Producer/Director-THE IDEALIST-JAMES BEVERIDGE, FILM GURU (documentary). She was the Graphics Director for CTV Sports at the Olympic Games in Barcelona and Lillehammer and before that worked for a variety of Canadian broadcasters and production houses.
Nina has an Honours BA in English and Philosophy from Glendon College and studied Fine Arts at MSU University in Baroda, India.  She was born in Bombay and grew up in India, Canada and the USA.
To learn more about Nina visit: www.beevision.com..