FOR IMMEDIATE RELEASE
Award-Winning Documentary
THE GHOSTS IN OUR MACHINE

Announces #ForTheGhosts UK Premiere Tour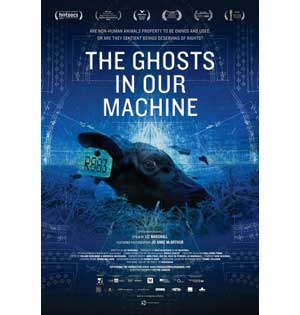 London, July 15th, Hackney Picturehouse
Bristol, July 17th, Arc Bar
Glasgow, July 19th, Stereo Café
Dublin, July 26th, Ireland Institute, Pearse Centre
Filmmaker Liz Marshall in attendance for Q&As, and available for advance interviews

VIEW SCREENINGS PAGE
JOIN FACEBOOK EVENT
BUY TICKETS TODAY
(06.11.14. – LONDON / BRISTOL / GLASGOW / DUBLIN) – Slowly but surely blinders are being removed to reveal one of the most haunting moral dilemmas of our modern world, courtesy of one of the most important documentaries of the last year. THE GHOSTS IN OUR MACHINE, a multi-award winning consciousness raising documentary, announces its highly anticipated UK premiere tour: July 15th – July 26th. Director/producer Liz Marshall is proud to release the film in the UK as part of her #ForTheGhosts grassroots Community Screenings Campaign, supported by Bertha BRITDOC Connect, the first European based outreach and engagement fund, and sponsored by Animal Equality, an international non-profit animal rights organization that works to achieve long-term social change, "where all animals are treated with compassion and respect". Screenings in Bristol, Glasgow and Dublin are Presented by Bristol Animal Rights Collective, Earth Movies and Vegan Ireland.
While the provocative film BLACKFISH made waves for exposing the consequences of keeping orcas in captivity, THE GHOSTS IN OUR MACHINE illuminates the plight of many other animals rescued from and living within the machine of our modern world, from captive foxes to rescued dairy cows. Marshall directs this visually arresting documentary through the heart and lens of award-winning animal rights photojournalist Jo-Anne McArthur of We Animals.  The film follows McArthur over the course of a year as she documents several animal stories in parts of Canada, the U.S. and in Europe, each photograph is a window into global animal industries: Food; Fashion; Entertainment and Biomedical Research. THE GHOSTS IN OUR MACHINE charts McArthur's efforts to bring wider attention to a topic most of humankind strives hard to avoid. Are non-human animals property to be owned and used, or are they sentient beings deserving of rights?
THE GHOSTS IN OUR MACHINE also includes an interactive Webby Award Honoree flash story by artists The Goggles (Welcome to Pine Point; Adbusters). It is an online companion to the documentary that explores the pages of protagonist McArthur's book "We Animals" (now published and available through Amazon). Viewers of the interactive story can access McArthur's bookmaking process.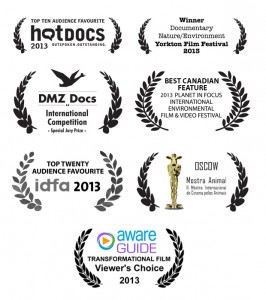 Acclaim for THE GHOSTS IN OUR MACHINE
Awards include: Top Ten Audience Favourite, Hot Docs Film Festival;
Best Nature/Environment Golden Sheaf Award, Yorkton Film Festival;
Special Jury Prize – International Competition, DMZ Docs;
Best Canadian Feature, Planet in Focus Environmental Film Festival;
Top Twenty Audience Favourite, IDFA.
A film whose sense of urgency and purpose is utterly engrossing.
– Ernest Hardy, Village Voice
(4 STARS) Powerful…disturbing…beautifully shot. A superb example of committed filmmaking.
– Susan G. Cole, NOW Magazine
Marshall introduces proximal empathy into the abysmal space between consumers and capital with a powerful affect that hits both the mind and heart with an enduring resonance.
– Ezra Winton, Art Threat
I can't imagine anyone not feeling moved during Ghosts.
– David DeWitt, New York Times
Haunting beauty…Ghosts is urging us to rethink our relationship with the animal population — what they owe us, what we owe them.
– Betsy Sharkey, Los Angeles Times


CREDITS:
Ghosts Media Inc. Produced in association with Canada's documentary channel
92 min. | Canada | DCP, BluRay, DVD | Color | 5.1 Surround | Unrated | English
Written and Directed by Liz Marshall
Produced by Nina Beveridge & Liz Marshall
Executive Producer: Mila Aung-Thwin
Commissioning Editor for Canada's documentary channel: Bruce Cowley
Edited by Roland Schlimme and Roderick Deogrades
Cinematography by John Price, Iris Ng, Nick de Pencier, Liz Marshall
Composer: Bob Wiseman
Sound team: Jason Milligan, Garrett Kerr and Daniel Pellerin
CONTACT:
To set up interviews and request a screener for review purposes:
Email: info@lizmars.com | Tel: +1.416.200.4509
DOWNLOAD EPK (electronic press kit):
https://app.box.com/s/pgwogey1m0swexb0007y
SALES: Ghosts Media Inc.
Producers: Nina Beveridge & Liz Marshall
Email: info@theghostsinourmachine.com
WEB & SOCIAL MEDIA:
Community Screenings Distributor: https://www.lizmars.com
Official Film Website: https://www.theghostsinourmachine.com/
Theatrical Trailer: https://vimeo.com/59741668
Facebook: https://www.facebook.com/TheGhostsInOurMachine
Twitter: @GhostsMovie
We Animals: https://www.weanimals.org/