INDIECAN ENTERTAINMENT Releases
Award-Winning Documentary
THE GHOSTS IN OUR MACHINE
DVD, iTunes Canada, Rogers & Shaw VOD
DVD IS NOW AVAILABLE direct from
The Ghosts In Our Machine website, at IndieCanent.com, and on Amazon.ca.
(Toronto – April 22, 2014) THE GHOSTS IN OUR MACHINE is a multi-award winning consciousness raising documentary that gently reveals one of the most haunting moral dilemmas of our modern world. While the provocative film BLACKFISH made waves for exposing the consequences of keeping orcas in captivity, GHOSTS illuminates the plight of many other animals rescued from and living within the machine of our modern world, from captive foxes to rescued dairy cows. 

Award-winning filmmaker Liz Marshall directs this visually arresting documentary through the heart and lens of photojournalist Jo-Anne McArthur. The film follows Jo-Anne over the course of a year as she documents several animal stories in parts of Canada, the U.S. and in Europe. Each story and photograph is a window into global animal industries: Food; Fashion; Entertainment and Biomedical Research.
"In celebration of Earth Month, The Ghosts In Our Machine DVD was manufactured with animals and the environment in mind. In partnership with our Canadian distributor Avi Federgreen of Indiecan, we are setting an example by releasing a socially conscious documentary wrapped in environmental 'ghost-free' packaging: Recycled resin cases were sourced by Avi, and our cover insert is 60% tree-free paper donated to the project by my pals Woody Harrelson and Jeff Golfman, Founders of Step Forward Paper, the wheat based revolution paper company. The wheat paper inserts were printed with vegan ink and 100% green energy by local printer MPH. We set out with the intention of decreasing our animal and environmental footprint, and I dare say, we have increased our compassion footprint. #ForTheGhosts." – Liz Marshall, Director, Producer, Writer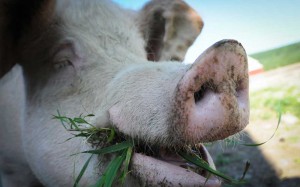 Acclaim for THE GHOSTS IN OUR MACHINE: Awards include: Top Ten Audience Favourite Award, Hot Docs Film Festival; Best Nature/Environment Golden Sheaf Award, Yorkton Film Festival; Special Jury Prize – International Competition, DMZ Docs; Best Canadian Feature, Planet in Focus Environmental Film Festival; Green Screen Award, 2nd place, Planet in Focus Environmental Film Festival; Top Twenty Audience Favourite Award, IDFA.
(4 STARS) Powerful…disturbing…beautifully shot. A superb example of committed filmmaking.
– Susan G. Cole, NOW Magazine
I can't imagine anyone not feeling moved during Ghosts.
– David DeWitt, New York Times
Haunting beauty…Ghosts is urging us to rethink our relationship with the animal population — what they owe us, what we owe them.
– Betsy Sharkey, Los Angeles Times
A film whose sense of urgency and purpose is utterly engrossing.
– Ernest Hardy, Village Voice
This is a masterful film. It should be essential viewing for everyone.
– James Cromwell, Actor
###
Credits:
92 min. | Canada | DCP, BluRay, DVD | Color | 5.1 Surround | Unrated | English
Directed and Written by Liz Marshall
Produced by Nina Beveridge & Liz Marshall
Executive Producer: Mila Aung-Thwin
Commissioning Editor for Canada's documentary channel: Bruce Cowley
Edited by Roland Schlimme and Roderick Deogrades
Cinematography by John Price, Iris Ng, Nick de Pencier, Liz Marshall
Composer: Bob Wiseman
Sound team: Jason Milligan, Garrett Kerr and Daniel Pellerin

About INDIECAN ENTERTAINMENT: INDIECAN ENTERTAINMENT focuses on independent, low-budget (less than $1.5 million) films.  As a distributor, Avi Federgreen follows the same principle that earned him his reputation as a filmmaker; bringing Canadians films they want to watch.  Aside from the traditional distribution route, INDIECAN leans heavily on digital delivery.  INDIECAN helps films find more opportunities with audiences through TV, Netflix, iTunes, websites, Facebook, Twitter, and other social media platforms.  INDIECAN's vision is to encourage the viewing of independent films by Canadian audiences.