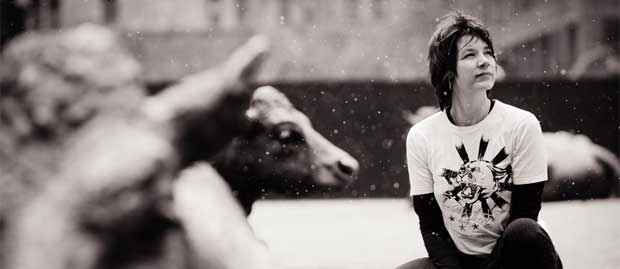 Photo courtesy of Jo-Anne McArthur
Liz Marshall is an award-winning Canadian documentary filmmaker based in Toronto. She has written, directed and produced broadcast, theatrical, grassroots and cross-platform documentaries shot around the world, largely focusing on social justice and environmental themes.
Since the 90s Marshall has collaborated with award-winning filmmakers and producers to explore a range of significant global issues, including animal rights, the right to water, HIV/AIDS in sub-Saharan Africa, gender inequality, war-affected children, sweatshop labour, censorship affecting writers and journalists, and others.
Marshall is best known for her celebrated feature length films Water On The Table (2010) and The Ghosts In Our Machine (2013) which illuminate social-political issues through character-driven and cinematic perspectives. Water On The Table features water rights activist, author and public figure Maude Barlow. The Ghosts In Our Machine features animal rights activist, photojournalist and author Jo-Anne McArthur. Both films pose significant questions about our human relationship to the natural world, and to other species. See awards and nominations. The Ghosts In Our Machine garnered over 145 global reviews and interviews.
Marshall strategized outreach and engagement campaigns for both films, most notably for The Ghosts In Our Machine which included a cross-platform social media presence throughout the film's development and production process, thus attracting a global fan base in advance of the film's release, and an Oscar qualifying theatrical release in the US, as well as a 2014 global community screenings campaign spanning 71 cities, 12 countries and 5 continents, distributed by Marshall's company LizMars Productions. The Community Screenings campaign was supported by the VegFund, Women Make Movies and the Bertha BRITDOC Connect Fund, Europe's only outreach and engagement fund for filmmakers. Marshall attended over 60 international screenings between April 2013 – December 2014 as a public speaker.
Marshall's films have screened for diverse international audiences: Theatrically; International broadcast; International film festivals; Video On Demand; Netflix; Museums; In-flight on Air Canada; Grassroots groups around the world; Vegetarian Food Festivals; 2006 International AIDS Conference; 2001 Winnipeg Conference on War-Affected Children for 150 world leaders; PEN International, and at a Tragically Hip concert for 200,000 of their fans
Read Liz Marshall's Director's Statement
Learn more about Liz Marshall, visit her website