Hello!
We are prepping for an exciting (and very busy) fall season and will announce our U.S. premiere dates on Monday September 23rd, and our European launch date on October 15th. There will be other important news for you this fall as well, so stay tuned. In fact, keep reading this blog because I mention below the various ways people can keep up-to-date with our progress and learn about THE GHOSTS IN OUR MACHINE.

The focus of this blog is our U.S. release, its importance, our strategy and the support we have galvanized. We have been fundraising since July 31st towards an Oscar Qualifying U.S. Theatrical Release in NYC and LA this fall. From there, we will extend to other cities. Very exciting times!
We have until September 27th to reach our goal of $30k
Please help to share our campaign widely. Every dollar will be used towards our goal of putting THE GHOSTS IN OUR MACHINE on the map in the largest most competitive film market in the world.
With the help of a stellar committed publicity team (GAT and Evolotus) we will continue to reach the grassroots and we will generate national mainstream media in the U.S, and with the help of our U.S. Partners we will have tremendous reach (and moral support). These combined efforts will put the animal question before a broad audience; on the agenda where it belongs.
We are humbled and thrilled to announce our U.S. Partners

We have officially partnered with several very well established animal rights, advocacy, rescue and rehabilitation groups to significantly increase our impact. The following organizations work tirelessly and with great compassion in a multitude of ways to help animals – through education, investigation, advocacy, protest, and by changing legislation, these organizations are heroic and pioneering – we are truly honoured to partner with them this fall and beyond (in alphabetical order): Compassion Over Killing; Farm Sanctuary, The Kimmela Center for Animal Advocacy; Mercy For Animals; NEAVS and PETA.
As you can see, we are working hard without major distribution backing us, we are engaged in what is called "hybrid distribution". My next blog, later this fall, will focus on various modes of distribution such as digital and educational, and the exciting ways our fans can see the film and use it as a tool for consciousness raising and social action in 2014 and beyond.
In other but related news,  Photographer Jo-Anne McArthur, the protagonist of the documentary, is releasing her highly anticipated book We Animals in December.
Are you a community organizer or willing to be a community organizer? Why don't you make it possible to bring the film to your neck-of-the-woods? Please fill out our Community Screenings Form. We will be in touch.
Finally, here are some ways for you stay tuned in to our progress

Follow us on facebook, I post as often as possible, sometimes several times a day.
Follow us on twitter, we tweet often, with feeling!
Subscribe to our monthly e-newsletter and get the latest news and meet members of our team.
Peruse our website, it's quite robust and layered. Contribute to our blogs on the website –
Take the interactive journey from our homepage.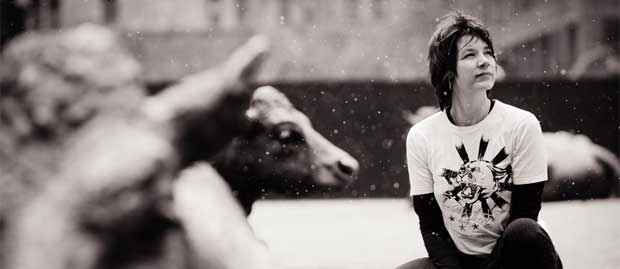 Thanks for your ongoing support of our project, you make it possible!
For the Ghosts,
Liz
Liz Marshall is an award-winning auteur filmmaker who fuses character-driven cinematic storytelling with social and environmental justice issues. Since the 90s she has created a body of documentary projects shot all over the world.
Read Liz's Bio
Read Liz's Director's Statement