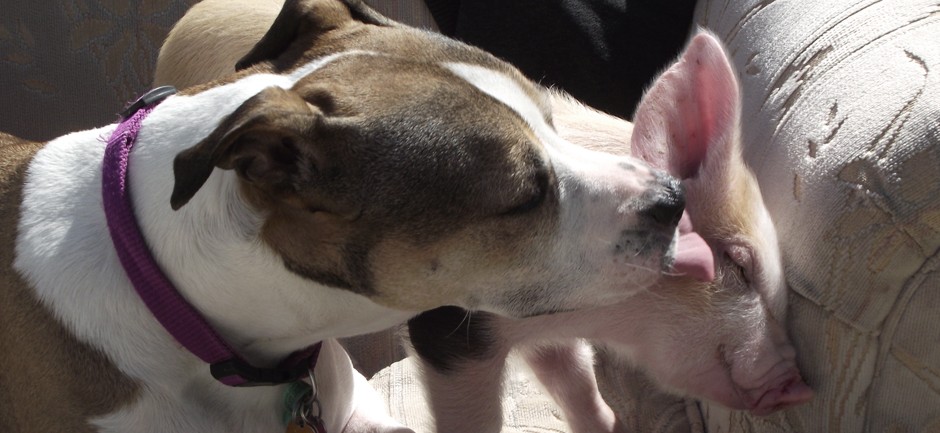 Sasha and Dennis the Menace. Photo by Tracey Shepherd Davis
I am sitting on my front deck surrounded by country peacefulness.  A special soul is curled up beside me snoring and grunting. This is my happy place, My Little Piece of Heaven!  There was a time when my daily life was filled with pigs … but only as dead and rotting flesh rolling by me on a line. With only a glimpse occasionally of the live terrified animals.
A factory job was once a certificate of hope and a better life for my family but it has become a representation of all I want to forget and what I now want people to know! A strange predicament to be in to say the least but it drives me to continue to spread the word.
Being a certified meat cutter was supposed to be a step up for my family but it has left me with lasting physical and mental scars. Some would think that my experiences in a slaughterhouse were what drove me to go vegetarian and eventually vegan. But growing up in a family whose livelihood depended on the pork industry we were programmed to believe that what we were doing was a service for others. We were doing the job no one else wanted to do.  After all, we all have to eat meat to be healthy, right? I never questioned it and my background reinforced it and the mainstream media backed it. Meat was Healthy! I believed that eating animals was necessary for good health, an unfortunate fact of life.  When my family needed the extra income I decided to take the job. It was the easiest place to find employment in the early 90s with little to no education and having family already working there made the decision easier.  I knew the hours were guaranteed and regular. And there was opportunity to make more money with training. Training that would eventually take me to the kill floor and the horrors that happen there …
So how does an ex-slaughterhouse worker do a complete turn around and become an animal rights advocate years later?

Tracey with photographer Jo-Anne McArthur
Beside me lies a roly poly grumbling, snooting, rooting, snoring lump of love!
She lies here peacefully and content and her desires in life are what we all want: Love, Nurturing, Companionship, Empathy, Understanding and a life free from pain and suffering. Something she can take for granted along with all her other rescued brothers and sisters here. She is the real superstar and she doesn't even know it! I have always believed that animals name themselves and she was definitely the queen! Cleopatra!
Cleo has her dislikes and likes, she gets moody around her "time of the month", there are people she adores and those she would rather not deal with. This philosophy also applies to her animal friends. She can figure out how to manipulate to get attention and she definitely lets you know when she has had enough!  Her most impressive skills are her ability to manipulate you into getting a treat with some of the most complex problem solving skills I have ever seen in an animal.  Of course I didn't know all these things about her in the beginning. She has taught me so much about what pigs are truly capable of. I was shocked at her interaction with my elderly shih tzu and how she imitated the play behavior of a dog! She learned to sit in less than a day and within a day she was house trained! But her intelligence was not all that made me reconsider all I thought was true about pigs. It was her interactions with a particular abandoned kitten that touched my heart and made me truly understand the depth of a pigs ability to love and nurture. Only about 4 weeks old she showed up at our doorstep and immediately attached herself to Cleo almost knowingly.  I watched Cleo tiptoe gently around the tiny fur ball and lie gently singing like a true mother pig to the puffy baby. She watched over her little charge and threatened anyone with her growls and fake charges if she felt anyone was a threat to her new baby. They were inseparable and are friends to this day. Since then we have had numerous litters of kittens and the occasional abandoned one and Cleo is always the same with all the babies that make their way through our doors. Always an adoring, loving foster mom to all the babies who end up here.
I look to the south and see the "crew", my rescued goats leisurely grazing in their paddock . Beside them surrounded by the singing crickets is Dennis landscaping his paddock grazing on the green grass big floppy ears flapping as he munches and roots around in the moist soil. It is hard to imagine him only a few months ago as a tiny piglet in our bed. Or curled up with his best friend Sasha (a shelter rescue).  He has grown into such a handsome young boy.  A farm pig who stole our hearts and the hearts of hundreds in the short time he has been here. We don't know his past really we can only speculate. But with the tell-tale docked tail and the lack of tusks and testicles it doesn't take much to know where his life started. As the barn swallows fly around him my thoughts wander …. What a sharp contrast to what his life may have been like for this sweet boy.  At 6 months old and 300 lbs he is has reached slaughter age and weight.  But he will never know the horrors his cousins face. He and Cleo and all their tortured cousins are what keep me going and doing what I do. They are my daily reminder of all that is wrong in this world and all that is right.
As a child I always wanted to make a difference in this world after years of hopelessness and wondering what is wrong in this world and thinking how could I possibly make a difference and what is right? Sometimes the Universe answers you in the strangest of ways. Maybe it is fate that brought Cleo to me and started me on this path. Maybe it was chance but I do believe things happen for a reason.
Am I healing from the sights and sounds that I experienced in the slaughterhouse?
I am not sure ..
I guess in the way that time and distance heals, I am, but I only have to attend a vigil and hear the screams and witness the terror to be reminded of their torment. Their lives hopelessly caught in a barbaric machine of birth, suffering, abuse and death.
For the Pigs
For the Animals
A Voice for the voiceless always in love
Tracey

Dennis and Sasha.                                                         Cleo and a kitten rescue.
photos by Tracey Shepherd Davis