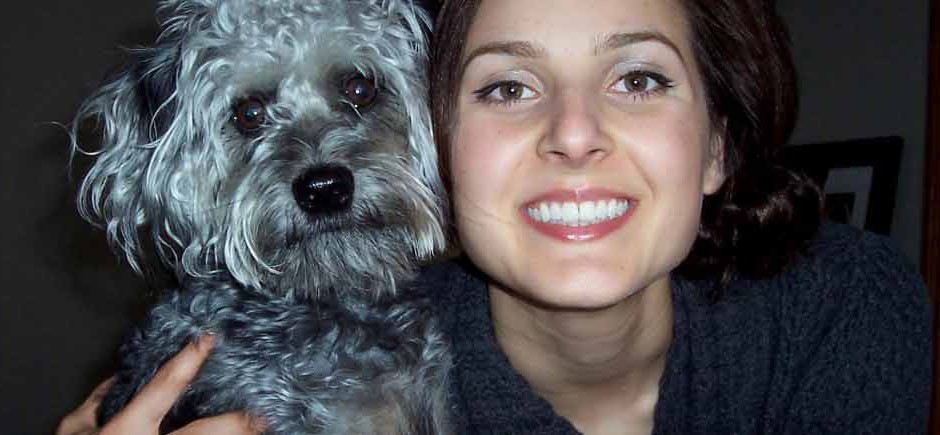 There are many reasons to become vegan:  it is good for your health, great for the environment, and better for animals.  My decision was based on the latter, but what propelled me to go on this journey was a four-legged dog named Madison.
As I write this, I am sitting at my home office.  I have a collection of animal related books that are piled up at the corner of my desk and accompanying the books are animal related DVD's that were lent to me by a dear friend.  If you met me five years ago, not much on my desk would indicate to you that I had an interest in animals.
So let's rewind to five years ago.
I remember the call like it was yesterday.  My sister was in conflict about which breed of dog she should get.  It was either the Schnoodle or the Shih Tzu Bichon Frise cross.  As we were conversing over the phone, I, not knowing much about dogs, did a quick Google search for both breeds to get a sense of their physical appearance and temperament.  My sister, a student and budget conscious, decided on the less expensive of the two breeds, but the dollar amount did not sum up her worth, for she is priceless to me today.
A couple of weeks later, home from university, there was Madison, the Schnoodle. I met Madison on a brisk, but appropriately sunny December afternoon.  Upon meeting Madison, I wouldn't say it was love at first sight.  I wasn't raised with animals and never received much education about animals at home or at school so my understanding of animals was limited and I didn't know how they were relevant to my life.
I was quite frightened by her introduction to me, which I am embarrassed to admit today.  All I remember is that she liked to jump on me, a lot.  At the time, jumping on me wasn't as an endearing quality to me as it later became.  Obviously, being as afraid as I was, I began to run away from her and of course that only escalated her level of excitement and she began to chase and jump on me some more, which didn't make her more endearing.  I asked my sister and her friend to please remove her from me and so they did, chuckling at my request.
A couple of weeks later after that incident, I was in a situation where I would have to be alone with her, just the two of us.  My sister informed me that she would be in her crate, but to let her out when I got home if I can muster up the courage.  When I got home, there she was.  Being less afraid now that she was behind steel gave me the opportunity to examine her more closely.  Why couldn't I overcome my fear?  There she was, so cute and precious, pawing at the crate, wanting so desperately to get out.  She was as curious about me as I was about her.  I took a few deep breaths, and reminded myself she is a lot smaller than I.  I unlocked the crate and she proceeded to jump and sniff me for what felt like an eternity, but once she got a good sniff of me, she was off to explore the smells of the house.  That wasn't so bad I told myself.  I must have looked at her as if she came from space, because to me, animals were so different, or so I thought, but she was the most mesmerizing creature I had ever laid eyes on.
Over the course of the next few months, my sister would bring her back and forth from campus and each time, I fell more deeply for her than the last visit.  Each time, I became less afraid until soon that fear completely vanished and that is when life really changed for me.
A year later, with my sister graduated and living home, I now had access to Madison full-time.  The bond that developed between her and I was so fervent and divine that I really could not fathom if it could be possible to love her any more than I already did.  My mother sent me a timely PETA video that was discussing the fur trade industry in China.  The animals being killed for fur were very much like Madison, but what really affected me was a close up of the eyes of a fox that were the spitting image of Madison's, and literally, in that moment, the connection for me was made.  The abundance of love I had for her now encompassed all animals.  That was also when veganism entered my life.  It was a transition for me, I didn't give up all animal products at first, but the more I educated myself about the exploitation of animals, veganism was the only option I had to live an authentic life.
Madison tragically died on April 30, 2011.   When I heard the news, I felt a sharp pain in my abdomen and I began breathing heavily.  I can't explain that moment, but that I just wanted to believe that it wasn't true.  I even pinched myself to ensure I was not dreaming.  My father had accidently left the front door open, there was a German Shepherd across the street, and Madison being the free spirit that she was, ran towards the dog and a vehicle hit her.  The offender didn't even stop to check on her.  It was if she meant nothing, like she meant nothing to anyone, but she meant the world to my family and I.  This was just more evidence to me on how society had not yet fully extended their circle of compassion to all living beings.
Fast forward to today, I look back on my actions towards Madison when I first met her and I reflect on her life. The fear I had in the beginning came from ignorance.  I didn't know how to think about them in a healthy way or how to behave around them, but once the fear was gone, I was able to open myself to her completely, and to every animal completely.
I miss her everyday, I think of her every day and I think how I must give her a voice so that she didn't die in vain, so that people understand how precious animals are.  She opened the doors to a world I didn't know I belonged in, a world that challenges my every thought and action and a world that enabled me to be part of such a worthy project, The Ghosts In Our Machine.
I now have a painted portrait of Madison in my home office.   She was my greatest teacher and I look to her for inspiration and for motivation, but mostly I look to her and say thank you, thank you for coming into my life and showing me what it means to embrace differences, but at the same time, showing me that we really are all the same, human or non-human, and most importantly, what it means to love wholeheartedly.
LINA TRICHILO
Researcher.