REVIEWS & INTERVIEWS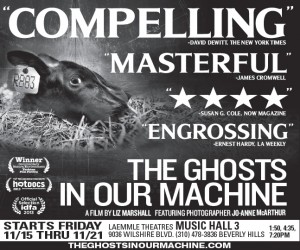 CAPE TIMES: Heartbreaking Butchery: "This film is an entry point for those becoming conscious of this epic and tough subject for the first time, and a tool for those who are committed to helping animals." 08.01.14. 
DAILY MAVERICK: "The Ghosts in our Machine, is a harrowing look at the forgotten animals in the human machine. Those who are used in medicine, fashion, food – you name it. Not the pets, not the wildlife. Not the ones we put on YouTube. The other ones. The ones we don't think about." Marelise Van Der Merwe. 08.01.14
THE GUARDIAN | THE OBSERVER: Green Crush: Liz Marshall's powerful feature documentary The Ghosts in Our Machine builds a new case for animal rights. Lucy Siegle. 07.21.14. 
THE TELEGRAPH UK: The Ghosts in Our Machine: 'It's not a finger-wagging movie outing farmers': An unflinching new animal documentary takes us inside factory farms and fur facilities. But its director Liz Marshall says she is trying to educate, not shock.
Rebecca Hawkes. 07.16.14
BBC 4 WORLD NEWS TODAY: Journalist Philippa Thomas interviews Liz Marshall, director/producer of The Ghosts In Our Machine, with guest film critic, Scott Jordan Harris. 07.16.14
THE IRISH EXAMINER: Exploring our complex relationship with the animal world. "A new film highlights how our relationship with animals needs to evolve…". Suzanne Harrington. 07.13.14.
CINEMABLOGRAPHER: THE BEST CANADIAN FILMS OF 2013 (#4): "Marshall takes the scope of the cinematic image to its greatest power as she follows photographer Joanne McArthur capturing animals in captivity to create provocative photo essays on the relationship between humans and animals. The result is a film as bold, slick, and gripping as a dramatic white-knuckler as Marshall and her team of stealthy cinematographers follow McArthur to the front lines of her daring mission." 
FILM CORNER: (4 STARS). The Greg Klymkiw Canadian Top Ten Features of 2013.
Greg Klymkiw. 12.09.13

HUFFINGTON POST: "…this is a haunting, yet beautiful movie that I highly recommend you see on the big screen." Tracy Baim. 12.09.13
HOLLYWOOD CHICAGO – (3 STARS) "It's difficult to comment upon a documentary like "The Ghosts in Our Machine,as it advocates an important issue regarding our very nature – the relationship we have with our food". Patrick McDonald. 12.06.13

GAPERS BLOCK: REVIEW: "When the film sticks to the guerilla-style work done by McArthur and her co-conspirators, The Ghosts in Our Machine can be a powerful tool, or even a weapon, against overt examples of animal cruelty. Her passion (and director Marshall's) is palpable and necessary to tell this story with such attention to detail and complete respect for the work and the animals in question". Steve Prokopy. 12.06.13

WINDY CITY TIMES:'Empathy Gene and Tofu': "I wanted to make a film that would be a catalyst for people who care, but who need to care more. And there are those who will never care. When it comes to having empathy for other species, I think many people need to, and can, foster and develop this part of themselves/ourselves." Liz Marshall. 12.05.13
NEW CITY FILM: REVIEW: RECOMMENDED: "Beauty and terror are quietly arrayed, sometimes commingling in the same images." 12.04.13
CHICAGO TRIBUNE: (3 STARS) Grist for a 'Machine': Animals' faces remind us of our kinship. "…narrative threads are compelling in writer-director Liz Marshall's finely wrought new documentary". Betsy Sharkey. 12.03.13
CHICAGO READER: "…Marshall works overtime to realize it onscreen, focusing tightly on the emotional lives of exploited animals as they plod through their miserable existences to slaughter." J.R.Jones.

REAL SCREEN: Planet in Focus honors "Ghosts In Our Machine":" Marshall's Ghosts, which follows the work and mission of animal photographer and activist Jo-Anne McArthur, was named best Canadian feature." Barry Walsh. 11.25.13
AN1MAL: 'THE GHOSTS IN OUR MACHINE' OPENS EYES, AND HEARTS: "At the film's end, I was left with a desire to do more, and to continue in my own efforts to help further this cause." Justin DeTolla. 11.24.13
CINEMA AXIS: PLANET IN FOCUS REVIEW: THE GHOST IN OUR MACHINE: "Powerful, and at times heartbreaking, The Ghost in Our Machine is an important film that should be seen. It is one of the must see documentaries of the year." Courtney Small. 11.21.13
BIG THINK: Lululemon and the Ghosts in Our Machine: "Director Liz Marshall does a fantastic job at making intense subject matter approachable. Balancing between indignation and delight requires a delicate touch." Derek Beres. 11.18.13
GALO MAGAZINE: Lifting the Veil: In Conversation With 'The Ghosts in Our Machine' Director Liz Marshall, Photojournalist Jo-Anne McArthur. Greg Iacurci. 11.15.13
BEVERLY HILLS COURIER: New Documentary Gives Animals In Society's 'Machine' A Face And Voice: "Opening with extreme close ups of expressive eyes from cows, horses, pigs and cats, the film eloquently makes the case that all animals are individuals." Steve Simmons. 11.15.13
OUR HEN HOUSE: Beyond Illegality: "We welcome back to Our Hen House Martin Rowe, sharing his thoughts on the New York Times review of The Ghosts in Our Machine and why we sometimes jump to the wrong conclusions about what is and isn't "illegal" when it comes to what we do to animals". Martin Rowe. 11.14.13
LOS ANGELES TIMES: Review: 'The Ghosts in Our Machine' champions animal rights: "Finely wrought…Ghosts is urging us to rethink our relationship with the animal population – what they owe us, what we owe them." Betsy Sharkey. 11.14.13
VEGAN RABBIT: "It is an incredible, mesmerizing, immersive homage to the billions of animals whose lives are caught up in the insanity of a system that treats them as mere production units. The film's unhurried cadence allows you to surrender to every layer of emotion as you become a part of a world that is hidden in shadows". 11.11.13

HLN TV: Host Jane Valez Mitchell Interviews Director Liz Marshall: Documentary Shines a Light on Animal Industry: 11.08.13
NEW YORK TIMES: Review: A Camera Aimed at the Conscience. "There's a logic at work in the motivated, morality-jarring animal-rights documentary "The Ghosts in Our Machine": If animals have emotions, and if we see that human actions cause them sadness, anger and fear, then we will become moved to help." David DeWitt. 11.07.13.
THE KIND LIFE WITH ALICIA SILVERSTONE: "Featuring pristine production and a cast of compelling nonhuman animals, the overall experience is nothing if not beautiful, and we dare say essential viewing." Nell Alk. 11.07.13
BUST MAGAZINE: "I feel like I'm a war photographer," says photojournalist Jo-Anne McArthur in Liz Marshall's brave new documentary The Ghosts In Our Machine. "I am photographing history, and photographing changes in history …". Emily Rems. 11.06.13
VILLAGE VOICE: Animal Rights Doc The Ghosts In Our Machine Is Utterly Engrossing: "…a film whose sense of urgency and purpose is utterly engrossing." Ernest Hardy. 11.06.13
FEED ME I'M CRANKY: THE GHOSTS IN OUR MACHINE: "…there is a documentary hitting select theaters soon that is truly remarkable in its ability to give you, the viewer, the room to reflect and engage with your relationship to animals and with animal life in all of its complexity and its, often, inhumanity." Annabel. 11.3.13
EXAMINER.COM: The Ghosts In Our Machine and the Common Sense Theory of Animal Rights: "Filled with stunning examples of McArthur's photography, The Ghosts In Our Machine focuses on the biggest and most important concept of animal rights: the ability of the human animal to recognize and accept that all non-human animals are sentient beings". Jeannette Smith. 11.2.13

ONE GREEN PLANET: 5 Reasons to Go Watch 'The Ghosts in Our Machine': "Despite the absence of gore for the sake of gore, there are very sensitive moments that are sure to invoke sadness, even feelings of pain and tears, since the subjects shown and discussed are heartbreaking". Kristina Pepelko. 11.01.13
FREE FROM HARM: Don't Hurt Me: Why "The Ghosts In Our Machine" Will Change Your Life: "And I knew that if I had watched this film as a non-vegan, it would have changed everything for me; that I could not have seen the world the same. That's the kind of film this is. Every dot is connected, and you cannot come away unchanged." Ashley Capps. 10.31.13
ANIMAL LEGAL DEFENSE FUND: The Ghosts in Our Machine: A Film by Liz Marshall: "What I love about this issue is that it's empowering. The Ghosts in Our Machine is not a "doom and gloom" film; our hope is that after people view the film they will reflect inwardly about their own daily consumer choices." Jennifer Molidor. 10.31.13

ECORAZZI: REVIEW: "If you're worried about what you will see, I can reassure you now that "Ghosts" is not blood and gore. It's aim is to reach a very large audience and bring to the public an important but overlooked question: "Are animals property, to be owned and used, or are they sentient beings, deserving of rights?" Jennifer Mishler. 10.30.13 
VEG DAILY BLOG: Movie on a Mission: The Ghosts in Our Machine: "The lyrical, often wordless, film is directed by Liz Marshall and shadows McArthur as she documents the lives of animals in research labs and in fur and factory farms." Amy Spitalnick. 10.29.13
JUST THE FOOD: The Ghosts in Our Machine: An Interview with Film Maker Liz Marshall: "And while the subject matter was indeed dark, and difficult, the film was exceedingly adept at making the viewer aware of how animals are being abused, exploited, and used for human pleasure, food, and fur in a way that is non threatening and nonaccusatory." Joni Newman. 10.28.13
After Ellen: Liz Marshall on animal rights and "The Ghosts in Our Machine": "Conceptually it was about giving the animals agency because they don't speak our language. So their breath, their movements, their cries…basically their voice was made bright within the movie. " Nicole Schultz. 10.21.13
Live Science: For Modern Society, Are Animals 'The Ghosts in Our Machine'?: "Have you ever wondered how, and why, our species has managed to develop such a sophisticated, well-oiled machine that we call 'modern society'?" Marc Bekoff. 10.17.13
Hollywood Reporter: REVIEW. Liz Marshall views animal exploitation through the eyes of photographer Jo-Anne McArthur: "Liz Marshall's Ghosts in Our Machine trades didacticism for first-person atmospherics." John DeFore. 10.15.13
Psychology Today: Animal Emotions: Do animals think and feel? "This incredible and forward looking film follows internationally renowned photographer Jo-Anne McArthur over the course of a year as she documents the stories of individual nonhuman animals (animals) who are caught in the web of so-called "civilized society"."Marc Bekoff. 10.12.13
Hana Dreaming: The Ghosts in Our Machine: "This kind of filmmaking bravely defies the expectations of cinema convention, especially in North America, where viewers might be waiting for a vigilanteism, or reality-tv style rescue. Marshall and McArthur are not making entertainment. They want us to live this." Sherry Coman. 10.05.13
Striking at the Roots: Film Review "The Ghosts in Our Machine": "What makes the film especially compelling, I think, is that it covers so many issues related to animal exploitation and does so without hitting viewers over the head, often letting the animals speak for themselves." Mark Hawthorne. 10.01.13
Examiner: (5 STARS) 'The Ghosts In Our Machine' the must-see documentary of Fall 2013: "Moviegoers will find The Ghosts In Our Machine a documentary that teaches with love, about respect and understanding for all animals; including humans." 09.30.13
Marilu Henner Show: Director Liz Marshall about The Ghosts In Our Machine. 09.26.13
NOW MAGAZINE: 4 STARS: Powerful Doc Makes the Fur Fly: "A superb example of committed filmmaking." Susan G. Cole. 09.19.13
OUR HEN HOUSE: DO YOU SEE THE GHOSTS?: ANIMAL ADVOCACY AND THE POLITICS OF SIGHT: "This is a powerful film, one that engages with the politics of sight on a number of levels." Keri Cronin. 09.11.13
GLOBAL ANIMAL: "The Ghosts In Our Machine" Looks Animal Suffering In The Eye: "…it's tough to stand out in the crowd. However, director Liz Marshall's The Ghosts In Our Machine does exactly that…" Anthony Armentano. 09.10.13
HUMANE RESEARCH COUNCIL: The Ghosts In Our Machine as a Tool for Advocacy: "…animals rarely escape anthropocentric portrayals in cinema. The Ghosts In Our Machine, however, is a film that runs counter to this trend". Kathryn Asher. 09.10.13
VICE – MOTHERBOARD: The Ghosts in Our Machine Is a Raw, Decidedly Quiet Look at the Animal Industry: "Ghosts occupies a curious place. It is a decidedly human, though not human-centric documentary." Lex Berko. 08.22.13
MFA BLOG: 'The Ghosts In Our Machine': Exquisite Filmmaking, Haunting Subject: There's no question about it–"The Ghosts In Our Machine" is one of the most arresting documentaries we've seen in years. Ari Solomon. 08.13.13
GEORGIA STRAIGHT: The Ghosts in Our Machine Captures Harsh Realities: "A worthy subject is aired in The Ghosts in Our Machine: the mistreatment of animals in this increasingly mechanized culture." Ken Eisner. 07.31.13
THE ASSOCIATION FOR THE PROTECTION OF FUR-BEARING ANIMALS: In The Spotlight: Liz Marshall, Filmmaker: "The animal rights movement has largely been misunderstood and very marginalized. I wanted to try and create something that would be like a bridge to people in communities and movements that don't give it the time or space that they should." Michael Howie. 07.23.13
JOURNEY FOR EARTH: "The intention with these interviews is that they inspire people to take action in any way that they can for our planet – humanity, environment, animals and also to inspire us to be the best that we can be, for ourselves, our community and our world." Annabel Ruffell. 07.22.13
LAIKA MAGAZINE: A Closer Look: The Ghosts In Our Machine: "The Ghosts in Our Machine arrives at a timely moment, when we as a society are starting to more actively address the moral conundrum and the injustice of hurting animals for our perceived benefit." Julie Gueraseva. 07.17.13 

ETHICAL EATING: REVIEW: Bringing the Ghosts in Our Machine to Life: "The Ghosts in Our Machine should be required viewing for any human animal who professes to love other animals but doesn't quite walk the talk." Syd Baumel. 07.12.13
NEXT PROJECTION: Review: 85/100 – GREAT. With The Ghosts in Our Machine, Marshall presents the questions, now it's up to all of us to debate the answers. Doug Heller. 07.07.13
WINNIPEG FREE PRESS: Animal Abuse Documentary Scared to Bare its Fangs: Instead of rousing the rabble, The Ghosts in Our Machine stays as ephemeral and cerebral as its title. Randall King. 07.5.2013 
SCENE CREEK: Interview: Jo-Anne McArthur speaks about The Ghosts in Our Machine: "Marshall's filming matches the tone of McArthur's photos, which are shown throughout; neither of the women condescend, patronize, or antagonize. They reveal a world that is inhumane, unnerving, and tragic." Anthony Marcusa. 07.03.13
POSTCITY.com: The Ghosts In Our Machine: a doc that'll turn you vegan: "The film is both seductively beautiful and uncomfortably tragic, and seeks to break down the barrier between the human and animal world, bringing to light the horrors of factory farms and animal abuse. It compels you to act without asking you to, and is undeniably powerful without being forceful." Anthony Marcusa. 07.03.13
FILM CORNER:THE GHOSTS IN OUR MACHINE returns: "I cannot begin to stress the beauty, craft and most notably, the IMPORTANCE of this film. For me, the most astonishing element is how much emphasis it places on the individual spirits and personalities animals have…" Greg Klymkiw. 07.02.13
PRESS +1: Ghosts Interview with Director Liz Marshall: Go to the grocery store and your manufactured and sanitized milk, steaks, and most what is packaged has been created by the "ghosts" (animals) that we don't connect with but give us everything from hearts to hoofs as sacrifice."06.28.13 

TROY MEDIA: The Ghosts In Our Machine tackles the impossible issue of animal rights: 
"Don't be afraid. This beautiful film won't make you want to close your eyes – it will help you open them wider." Chanda Chevannes. 06.14.13. 
SAMARITAN MAGAZINE: Liz Marshall Documents Animal Suffering In The Ghosts In Our Machine: "Like Jo-Anne's photos, the film is both difficult to watch and highly captivating. The images speak for themselves, no preaching required." Liisa Ladouceur. 06.03.13.
CLASSICAL 96.3 FM. MOVIES: "One thing is abundantly clear. Liz Marshall has made a very strong statement without deliberately alienating anyone. The Ghosts in our Machine is a fine point-of-view documentary, well worth seeing." Marc Glassman. 05.31.13
EXAMINER.COM: (3.5 / 5) "By focusing on McArthur and not just examining the subject as a whole, Marshall has made a film which is a touching and loving tribute to one woman's passion and work. The film endears its lead to the audience early on and makes them willing participants on her photographic odyssey …" Kirk Haviland. 05.31.13
RABBLE.CA: DOCUMENTING THE GHOSTS IN OUR INDUSTRIAL FOOD MACHINE:
"It's a statement, a question, a meditation about our industrialized, urban, global world," Marshall said." Cathryn Atkinson. 05.31.13
NOW MAGAZINE: (4 STARS) GHOSTS HAUNTS: Liz Marshall's compelling portrait of photographer Jo-Anne McArthur, whose mission is to document the invisible war on animals, bears powerful witness to the appalling conditions to which humans consign our fellow creatures… a superb example of committed filmmaking.  Susan G. Cole. 05.30.13
THE GRID: GRID RATING 8/10: "The Ghosts In Our Machine charts McArthur's efforts to bring wider attention to a topic that most of humankind strives hard to avoid." Jason Anderson. 05.30.13
STRAIGHT.COM: DOXA 2013: GHOSTS IN OUR MACHINE DIRECTOR LIZ MARSHALL IMAGINES A KINDER HUMAN-ANIMAL SOCIETY: "There are some exceedingly painful moments in The Ghosts in Our Machine, but the film also visits rescue farms and sanctuaries, captured with a placid glow by Marshall's camera." Adrian Mack. 05.08.13
MATT AND NAT BLOG: FILMMAKER LIZ MARSHALL DISCUSSES HAUNTING DOC: "Gorgeously shot and meticulously edited, it's no wonder this aesthetic gem premiered at Hot Docs Canadian International Documentary Film Festival and, I'm told, received a standing ovation." Nell Alk. 05.07.13
ANIMALISTIC: REVIEW: THE GHOSTS IN OUR MACHINE: I'm glad that I saw The Ghosts in Our Machine, and I would highly recommend it to anyone who is open to conversation about the central question of the film: "Are animals property to be used or are they sentient beings deserving of rights?" Tess Morgan. 05.04.13
TRIBUTE.CA: 5 STAR USER RATING: "Over the course of a year, award-winning director Liz Marshall follows acclaimed animal photographer Jo-Anne McArthur as she photographs several animal stories in parts of Canada, the United States and in Europe." 05.31.13
INDIEWIRE: 10 FILMS YOU MUST SEE FROM THIS YEAR'S HOT DOCS: "Marshall succeeds in creating a portrait of a driven activist that shies away from outright polemics to perhaps preach beyond the converted." Basil Tsiokos. 05.03.13 
KLYMKIW FILM CORNER: (4 STARS): "It's a finely wrought piece of work that takes huge risks on so many levels in order to present a stunningly etched portrait of the heroic McArthur and HER subjects …". Greg Klymkiw. 05.01.13
WYLIE WRITES: The Ghosts in our Machine is Hauntingly Good: "Marshall and her team of cinematographers have shot this documentary in a way that could fool anyone into thinking Steven Sodebergh had helmed – or at least produced – this impacting film.". Addison Wylie. 05.01.13
TORONTOIST: HOT DOCS DAILY: (NNNN) Eschewing sensational grim imagery—though there is some of that—the doc finds hope in an aspect of human behaviour that some of us never think twice about.". Kiva Reardon. 05.01.13
NOW MAGAZINE: (4 STARS): "A superb example of committed filmmaking." Susan G. Cole
TORONTOIST: (4 STARS): "The Ghosts in Our Machine is not a feel-good documentary, but it's a powerful one that will stick with you for days after you've watched it." Terri Coles. 04.29.13
PRESS+1: HOT DOCS 2013: THE GHOSTS IN OUR MACHINE (4.5/5): "It doesn't persuade, it simply declares, and in those declarations are truths we have hidden away under the rug for far too long." Kindah Mardam Bey. 04.28.13
SOUND ON SIGHT: "McArthur and Marshall do an extraordinary job of putting the emotions of non-human people on the screen." David Flore. 04.28.13
THE GRID T.O.: (8/10 stars): Hot Docs Buzz Films: "What could've been a straightforward animal-rights polemic is transformed into something more haunting and affecting…" Jason Anderson. 04.28.13
INDIEWIRE – WOMEN IN HOLLYWOOD: "After watching the film, there is no way you will look or think about animals the same way again." Melissa Silverstein. 04.25.13
DORK SHELF: "Recommended: Yes. It's beautiful and moving in ways that few films on this subject even come close to." Andrew Parker. 04.25.13
CINEMABLOGRAPHER: (4.5/5 stars): "The Ghosts in Our Machine offers top-notch filmmaking … and the convincing insight never feels the slightest bit like a lesson." 04.25.13

POINT OF VIEW Magazine: Hot Docs Edition 2013: Feature Cover: "Instead of bombarding the audience with images of animal abuse, Marshall structures the film around McArthur's journey, which adds a human centre and allows for necessary moments of reprieve". Kiva Reardon. 04.22.13
THE GLOBE AND MAIL: REVIEW: 2.5 stars. The Ghosts in Our Machine: Prepare To Be Uncomfortable: Once we begin to empathize with these animals, we can't ignore them quite so easily. Geoff Pevere. 04.22.13
OUR HEN HOUSE: Podcast Episode 170 .04.13.1
ART THREAT: The Animals On Our Screen: "Marshall doesn't throw the sixties wrench into the cogs of the machine, screaming from a mantle of righteousness that what we are doing is morally, ethically, ecologically wrong. Instead, she introduces proximal empathy into the abysmal space between consumers and capital with a powerful effect that hits both the mind and heart with an enduring resonance." Ezra Winton.03.27.13

BLOGS AND BUZZ
The Winnipeg Humane Society: The Ghosts in Our Machine examines our relationship with animals: "The Ghosts in Our Machine has earned rave reviews, with many critics praising it both for its important message and beautiful cinematography. Marshall and McArthur are thrilled to be gaining more recognition for the plight of animals, even though it's not an easy message to make accessible." 09.11.13
Ton Petit Look: Celebrating the Release of The Ghosts In Our Machine at Lush St-Denis: "The film follows the journey of photographer Jo-Anne McArthur, who tries to raise awareness and shed light on issues surrounding these practices. It's beautiful and heartbreaking at the same time." Audrey Bujold. 10.04.13
Danielle Levy Nutritional Consulting: The Ghosts in Our Machine. Documentary Film. 2013: Danielle Levy. 09.12.13
The Thinking Vegan: Photographing the Ghosts: Interview with Jo-Anne McArthur: Gary Smith. 09.19.13
THE PETA FILES: Riveting New Film May Change the Way the World Thinks About Animals: Alisa Mullins. 06.17.13
HUFFINGTON POST: Can Documentary Films Be Catalysts For Change? Liz Marshall 05.28.13
THE GHOSTS IN OUR MACHINE: INSPIRING CONSCIOUSNESS ABOUT NON-HUMAN ANIMALS. NJ WIGHT. 05.28.13
GLOBE AND MAIL VIDEO: ANIMAL DOC WANTS YOU TO STOP THINKING OF ANIMALS AS PRODUCTS : Hannah Sung. 05.03.13
YOUR DAILY CAMERA: Guest Opinion: Animal Pain Hurts us All — Who lives, who dies, and why. 03.15.13
LIBERATION BC BLOG: Animal Advocacy Camp 2013: What a weekend! 03.12.13
ANIMAL VOICES RADIO SHOW: The Doc Show: Tribe of Heart and The Ghosts In Our Machine. 02.22.13
VEGGIELEVEN: Nieuwe docu: The Ghosts in our Machine. 02.22.13
FREE FROM HARM: The Most Powerful Movie Trailer I've Seen In A Long Time. 02.21.13
YOUR DAILY VEGAN: For The Animals I Weep. 12.19.12
MY NON-LEATHER LIFE - MARTHA FLATLEY: Interview With the Ghosts In Our Machine Director Liz Marshall . 12.17.12
MY NON-LEATHER LIFE – PODCAST - MARTHA FLATLEY: Interview With the Ghosts In Our Machine Director Liz Marshall . 12.17.12
PSYCHOLOGY TODAY: Animal Emotions. 11.24.12
TMC RESOURCE KIT: Case Study-The Ghosts In Our Machine. 10.25.12
VEGAN MAINSTREAM: Feature Interview: The Ghosts In Our Machine. 07.27.12
MEDIACASTER: Ghosts Website Launched in Advance of Feature Documentary. 06.25.12
STRIKING AT THE ROOTS: Filmmaker Liz Marshall Reveals The Ghosts in Our Machine. 06.02.12
HUFFINGTON POST: Media's Animal Magnetism. 02.27.12
THE ETHICAL MAN: 11.21.11
OUR HEN HOUSE: The Latest From the Ghosts in Our Machine. 06.20.11
OUR HEN HOUSE: The Unfolding Narrative of The Ghosts in Our Machine. 04.29.11
ANIMAL BLAWG: Some Thoughts on The Ghosts in Our Machine. 07.20.11
ANIMAL BLAWG: Reflections. 07.27.11
COMPASSION WEEK: Compassion Through Documentary. 06.09.11
RABBLE.ca: Interview with Liz Marshall. 06.06.11
RABBLE.ca: Maggie's Story. 04.15.11
A DOG'S EYE VIEW: Liz Marshall Talks: The Ghosts in Our Machine. 05.26.11
ECORAZZI: Indiegogo Campaign to Fund New Animal Project. 06.09.11
WE ANIMALS: Trailer: The Ghosts in Our Machine. 09.16.11
ANIMAL RIGHTS ZONE: 06.20.11
NEWSCLIPTV.COM: Liz Marshall Talks about Her Latest Film. 09.21.11
ART THREAT: Haunted Animals. 09.21.11
ECCO : ECO: Cruelty Free Friday. The Ghosts in Our Machine. 07.01.11
VEGVID: 09.11.
PLANTS AND ANIMALS DENVER: 06.08.11
POST PUNK KITCHEN: 07.18.11
SECRETARY OF INNOVATION: Update of Jonathan Balcombe. 09.11
ONE GREEN PLANET: Vegan Consciousness. 09.07.11
ONE GREEN PLANET: Thanksgiving. 11.14.11