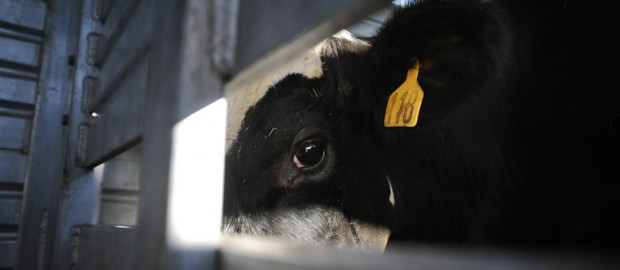 THE GHOSTS IN OUR MACHINE
An Award-Winning Film by Liz Marshall
U.S. THEATRICAL RELEASE DATES ARE ANNOUNCED
New York at Village East Cinema, Nov. 8-14
Los Angeles at Laemmle Music Hall, Nov. 15-21
Expanding to San Francisco, Boston and other cities.
Director Liz Marshall and Subject/Photographer Jo-Anne McArthur
Available for advanced interviews, as well as in NY/LA during theatrical releases
(NEW YORK/LOS ANGELES/SAN FRANCISCO/BOSTON) – Slowly but surely, blinders are being removed to reveal one of the most haunting moral dilemmas of our modern world, courtesy of one of the most important documentaries of the year. Director Liz Marshall's progressive, consciousness raising THE GHOSTS IN OUR MACHINE  is beginning an awards-season run in four major U.S. markets this fall – New York on Nov. 8 at Village East Cinema, followed by Los Angeles on Nov. 15 at Laemmle Music Hall, and will later expand to San Francisco and Boston with dates and theaters to be announced soon. This follows a super successful world premiere earlier this year at Hot Docs (voted a Top 10 Audience Favorite).
In much the same way FOOD INC. opened audiences' eyes to the bleak realities of the food manufacturing industry, THE GHOSTS IN OUR MACHINE piques our awareness to a dramatic reality that is largely hidden from our view; animals used for food, clothing, entertainment and biomedical research.
Award-winning filmmaker Marshall directs THE GHOSTS IN OUR MACHINE through the heart and lens of acclaimed animal photographer Jo-Anne McArthur. Haunting and heart-warming, audiences experience a diverse cast of animal subjects rescued from and living within the machine of our modern world. Over the course of a year, Marshall shadows McArthur as she photographs several animal stories in parts of the U.S., Canada and Europe, with each photograph and story serving as a window into global animal industries. This visually arresting one-of-a-kind documentary shines a cinematic light on the animals we don't easily acknowledge, the "ghosts" who are the animals trapped within the cogs of our voracious consumer world. McArthur's epic photo project We Animals is comprised of thousands of photographs taken around the world, documenting animals with heart-breaking empathic vividness. THE GHOSTS IN OUR MACHINE charts McArthur's efforts to bring wider attention to a topic most of humankind strives hard to avoid.
The film has attracted the attention of progressives and celebrities alike, with kudos from Woody Harrelson, Bill Maher, James Cromwell, Bob Barker, and international animal and environmental advocates. Radiohead agreed to have their iconic song, "Give Up The Ghost," in the film.
THE GHOSTS IN OUR MACHINE includes an educational website with a stunning and innovative flash story by award-winning interactive artists The Goggles (Welcome to Pine Point; Adbusters).

Acclaim for THE GHOSTS IN OUR MACHINE:
This is a masterful film. It should be essential viewing for everyone.  – James Cromwell, Actor
Marshall succeeds in creating a portrait of a driven activist that shies away from outright polemics to perhaps preach beyond the converted.  – Basil Tsiokos, INDIE WIRE
Powerful…disturbing…beautifully shot. A superb example of committed filmmaking.  4  STARS. – Susan G. Cole, NOW Magazine
"The Ghosts in Our Machine" Is a Raw, Decidedly Quiet Look at the Animal Industry  – Lex Berko, VICE – MOTHERBOARD
 McArthur and Marshall do an extraordinary job of putting the emotions of non-human people on the screen.  – David Flore, SOUND ON SIGHT

Click here for Press Inquiries about THE GHOSTS IN OUR MACHINE, and to schedule interviews
with Director Liz Marshall and Subject/Photographer Jo-Anne McArthur.
Liz Marshall is a Gemini nominated award-winning auteur filmmaker who fuses character-driven cinematic storytelling with social and environmental justice issues. Since the 90s she has created a body of documentary projects shot all over the world which focus on a range of subjects including: animal use and animal sentience; the right to water movement; HIV/AIDS in sub-Saharan Africa; sweatshop labor; censorship affecting writers and journalists, war-affected children; music icons and the written and spoken word. Liz is well versed in the craft of conceptual point-of-view storytelling as a means of exploring complex issues.
Award-winning photojournalist Jo-Anne McArthur has been documenting the plight of animals on all seven continents for over ten years. Her documentary project, We Animals, is internationally celebrated and over 100 animal organizations, among them Igualdad Animal, Sea Shepherd and the Jane Goodall Institute, have benefited from her photography. Many organizations have also worked with her closely on campaigns and investigations. The first We Animals photo book is being published by Lantern Books in late Fall 2013. Recent awards and accolades include: Co-recipient (with Liz Marshall) of the 2013 Compassion for Animals Award in Toronto; the 2011 Canadian Empathy Award (art category); one of CBC's Top 50 Champions of Change; Farm Sanctuary's 2010 "Friend of Farm Animals" award; HuffPost WOMEN's "Top 10 Women trying to change the world"; one of 20 activists featured in the book The Next Eco Warrior; and the "Shining World Compassion Award" by Supreme Master Ching Hai.
Credits
Ghosts Media Presents
THE GHOSTS IN OUR MACHINE
Produced in association with Canada's documentary channel
92 min. | Canada | DCP | Color | 5.1 Surround | Unrated | English
Directed by Liz Marshall
Produced by Nina Beveridge & Liz Marshall
Executive Producer: Mila Aung-Thwin
Commissioning Editor for Canada's documentary channel: Bruce Cowley
Edited by Roland Schlimme and Roderick Deogrades
Cinematography by John Price, Iris Ng, Nick de Pencier, Liz Marshall
Composer: Bob Wiseman
Sound team: Jason Milligan, Garrett Kerr and Daniel Pellerin
Web and social media:
Official Film Site: www.theghostsinourmachine.com/
On Facebook: www.facebook.com/TheGhostsInOurMachine
On Twitter: twitter.com/GhostsMovie
We Animals: www.weanimals.org/
###