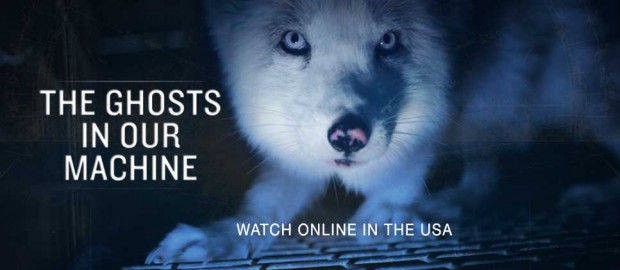 ITUNES USA: https://itunes.apple.com/us/movie/the-ghosts-in-our-machine/id785459462?ls=1
MICROSOFT XBOX: https://video.xbox.com/#Movie/996002e9-b443-47e5-9cb6-0390e3ef075e
GOOGLE PLAY: https://play.google.com/store/movies/details?sticky_source_country=US&id=PED-xppJPMs
VUDU: http://www.vudu.com/movies/#!content/503068/The-Ghosts-in-Our-Machine
AMAZON: http://www.amazon.com/Ghosts-Our-Machine-HD/dp/B00IASYM8K/ref=sr_1_3?ie=UTF8&qid=1392055197&sr=8-3&keywords=the+ghosts+in+our+machine
DAILY MOTION: http://www.dailymotion.com/video/k3mmyjdqng1Tmi5hbgI
And these Cable Television stations:
Time Warner
Comcast
Cox
RCN
Independent Systems
Metrocast
See below for sample social media posts to help us spread the word:
For the Ghosts!

SAMPLE FACEBOOK POST
@The Ghosts In Our Machine is now available is the U.S. through iTunes, Amazon, and Google play, and through cable TV video-on-demand. Liz Marshall's visually arresting, consciousness-raising documentary reveals the "ghosts" trapped in the cogs of our voracious consumer world: the individual animals living within and rescued from the machine of the food, clothing, entertainment and biomedical research industries.
Please show your support for this incredible film by renting/viewing it online. See below for viewing options.
#Fortheghosts
(add this link: http://www.theghostsinourmachine.com/watch-ghosts-online-in-the-usa/)
SAMPLE TWEETS
iTunes:
#TheGhostsInOurMachine is now available through @iTunes in the U.S.! http://bit.ly/1kn1Wfk @GhostsMovie #Fortheghosts
Google Play:
#TheGhostsInOurMachine is now available through @GooglePlay! http://bit.ly/1kvClB6 @GhostsMovie #Fortheghosts
Amazon:
#TheGhostsInOurMachine is now available through @amazon! http://amzn.to/1iaFJAo @GhostsMovie #Fortheghosts
Local cable:
#TheGhostsInOurMachine is now available on VOD! Check your local cable provider (Comcast, Time Warner Cox) @GhostsMovie #Fortheghosts