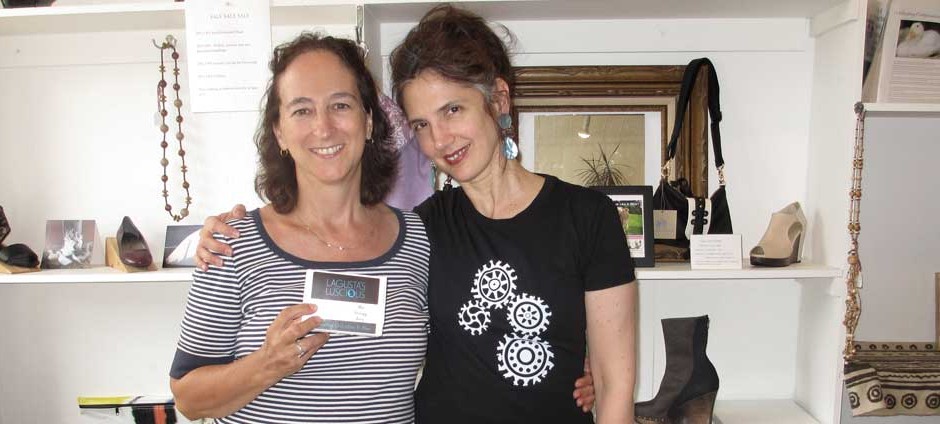 Producer Nina Beveridge showing off her Lagusta's Luscious Chocolates and TGIOM Ghost-Free Journey Coach Donna Oakes posing in her new "For The Ghosts" t-shirt.
In August my daughter and I went on our annual road trip from Toronto to Westport, CT to visit my lifelong friend Jackie Hauge. On the way we visited TGIOM's Ghost-Free Journey coach and all around beautiful soul Donna Oakes at her tranquil oasis, Cow Jones Industrials Vegan Boutique, currently located in Chatham, NY.  Donna greeted us with a big smile, hugs and a gift of delicious chocolates from Lagusta's Luscious. My 17 year old fashionista daughter Jamie was drawn immediately to the awesome shoe collection, which lines the walls of the boutique. Donna treated us to vegan sandwiches from a café next door and we really enjoyed getting to know one other in person, after a thriving online friendship that has been growing ever since we launched our TGIOM facebook page in the late spring of 2011.
After lunch we thoroughly explored the shop and Jamie scored a gorgeous pair of boots from Cri de Coeur's Hearts of Darkness line and I bought a beautiful pair of sandals made by Olsen Haus. We  explored the little details of the shop while munching more luscious chocolate (hey – it was the beginning of our vacation!) and then Jamie modelled some gorgeous wedge sandals called Sasha by Beyond Skin (some of Donna's personal favourites!)
Donna's gentle wisdom and commitment to a cruelty-free lifestyle make her the perfect coach for our 5 Day Ghost-Free Journey and we are honoured to have her as a member of our team. That same serenity infuses her shop. Donna told me how the carefully displayed brochures and postcards on her shop counter, combined with the peaceful aura, inspire people to share their stories and reflections on human-animal relationships with her while they shop. Donna listens and encourages everyone without judgement.
We are also pleased to announce that Cow Jones Industrials Vegan Boutique is now selling our "For the Ghosts" t-shirts to US and international customers. T-shirts can be purchased online via the Cow Jones store, or in the boutique. Hurry though, the boutique is closing on September 31/12 and will be relocating to another town soon. While she seeks a new location, Donna will be running her store in full force online and there are some beautiful fall line additions to her merchandise. Check it out!
Clockwise from top right – Jamie shows off her new boots, Nina's new sandals, Jamie models Cow Jones Vegan Boutique's stunning Sasha sandals by Beyond Skin