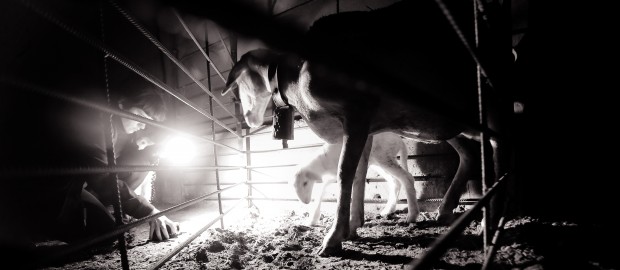 "THE GHOSTS IN OUR MACHINE is an eye opening and powerful documentary, which invites viewers to consider animals as individuals.
As a society we have shown to be capable of such greatness, but along the way some of us have forgotten the animals which we share this world with. They are the 'ghosts' of a complex and industrialized system, which is hidden from our view.
We believe that THE GHOSTS IN OUR MACHINE will change perceptions and help people to reflect on their kindness towards animals.
Animal Equality is honoured to join the family of Animal Ambassadors, as well as to be supporting #ForTheGhosts UK Premiere Tour."
Animal Equality
www.AnimalEquality.net
Photo courtesy of Jo-Anne McArthur
Animal Equality is an International animal advocacy organisation that is dedicated to defend all animals through public education, campaigns and investigations.
Working to create a more just and compassionate world for animals, they are currently active in the United Kingdom, Germany, Italy, Spain, Mexico, Venezuela and India.
We believe that every animal should have a voice, deserving a life free of pain and suffering. We seek to achieve a behavioural and lasting change in society in order to prevent cruelty and protect animals.
Our mission is to achieve a long-term social change, where all animals are treated with compassion and respect. Through major campaigns, proactive educational initiatives, investigations, corporate vegan outreach, and legal advocacy. By educating the public about animal issues, we motivate them to move towards a vegan diet and provide useful resources to help them.
Animal Equality focuses its attention on the four main areas in which animals suffer the most: farmed animals, clothing trade, laboratories, and the entertainment industry.
Our effectiveness has led to meaningful victories for animals in different areas. We will continue to inspire change and fight for a more just world for all.
Read our Interview with Animal Equality