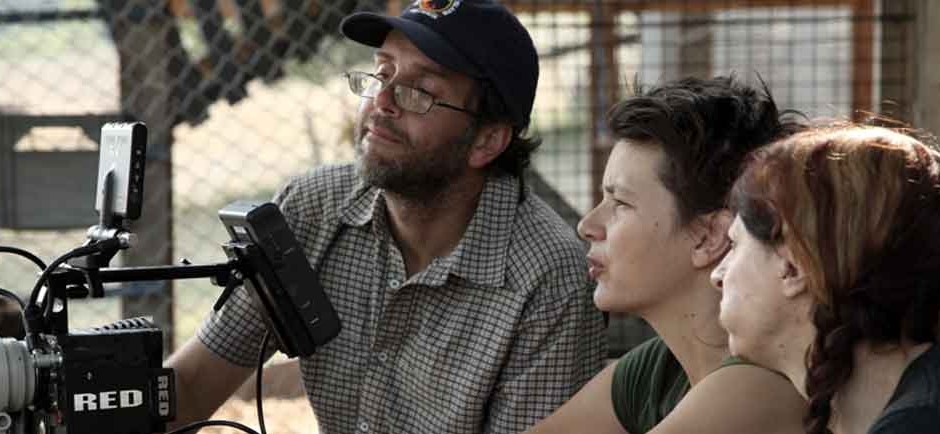 Liz, Nick and Lorena view slow motion footage of monkeys at Story Book Farm Primate Animal Sanctuary, Ontario.  Photo by Noah Bingham.
"I want to see slow motion macro lens moments of happy animals; former ghosts rescued from the industry: the blink of an eye, the shudder of a muscle, a foot; a paw in motion …", is how my conversation went with my old friend and fellow filmmaker Nick de Pencier. Nick is one of the talented cinematographers I have had the privilege of working with on this project. He suggested that we shoot these sequences on his EPIC Red camera, at the highest speed possible to achieve an ultra-slow-motion look. I call these sequences "Sentience Vignettes", as they certainly convey the essence of what Dr. Marino defines:
Sentience is a concept that has to do with an individuals' awareness of self, awareness of the environment, awareness of others. All living beings are sentient to one degree or another. You need to be aware of your surroundings, you need to feel pain and you need to feel emotions. All animals are sentient and sentience is a basic property of being alive. – Interview excerpt with Dr. Lori Marino, PhD, Founder and Executive Director of the Kimmela Center for Animal Advocacy.
We filmed at three local animal sanctuaries in Ontario. It was such a joy to film with the animals and to meet their human caretakers. We felt lucky to spend time in these environments and would like to thank Rose of Refuge RR for Horses, Sherri of the Story Book Farm Primate Sanctuary and Susan of Snooters Farm Animal Sanctuary. Learn more below.
And on the subject of former ghosts and Sanctuaries, a place that feels like home to us is Farm Sanctuary in upstate New York. We had the pleasure and privilege to film at the farm three times between July 2011 and July 212. One of the main rescue stories featured in the documentary takes place at Farm Sanctuary. When you see it you will meet Fanny and Sonny, and you will get to know them over the course of a year. A special shout out to Susie Coston, the National Shelter Director for Farm Sanctuary – she is also featured in the film (and she is a natural on-camera).
So, this is an opportunity to say a heartfelt thank you for your generosity and hospitality. Thank you for providing a refuge for the Ghosts. 
Refuge RR for Horses is a registered, charitable organization which rescues, rehabilitates and provides permanent homes for abused, neglected and/or abandoned horses. We also provide peaceful retirement for horses who are no longer serviceable. Along with our equine residents we also provide sanctuary to a variety of other animals: sheep, goats, pigs, chickens, ducks, rabbits, dogs and cats.
Please note: Refuge RR for Horses is in desperate need of water for its many animals. Please click here to learn more: https://www.indiegogo.com/WaterforAnimals
Story Book Farm Primate Sanctuary is a sanctuary which provides a permanent home for primates retiring from biomedical research, zoos, universities, pet stores, and private residences. The farm is located approximately one-hour north east of Toronto in the Sunderland area. Currently, we are home to 24 monkeys. Although we are not open to the public we welcome any inquiries and hope you will read about some of the monkeys we are trying to help.
Snooters Farm Animal Sanctuary is a small, privately run, privately funded, farm animal sanctuary in Ontario, Canada. We offer safe, forever homes to rescue animals who have come from a variety of places. Some from families who grow tired of them, some from factory farms, some strays & many with disabilities. Our family includes big pigs, potbellied pigs, sheep, steers, horses, dogs, cats, hens & peafowl. ALL of them have found their "forever homes" here with us at Snooters.
Farm Sanctuary was founded in 1986 to combat the abuses of factory farming and encourage a new awareness and understanding about farm animals. Today, Farm Sanctuary is the nation's largest and most effective farm animal rescue and protection organization. We have rescued thousands of animals and cared for them at our sanctuaries in Watkins Glen, New York; Northern California (Orland); and the Los Angeles area. At Farm Sanctuary, these animals are our friends, not our food. We educate millions of people about their plight and the effects of factory farming on our health and environment. We advocate for laws and policies to prevent suffering and promote compassion, and we reach out to legislators and businesses to bring about institutional reforms.
Finally, for a list of some excellent Sanctuaries around the world, endorsed by Jo-Anne McArthur, please visit her Links and Resources section on her We Animals website. Jo is an animal rights photographer and the main human subject of The Ghosts In Our Machine.
For current and former Ghosts,

Liz Marshall
Director & Producer