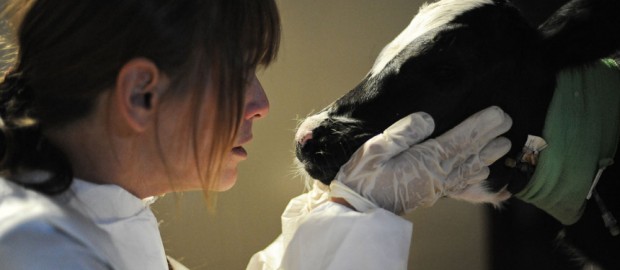 Between 2011 – 2012, Fanny and Sonny and Maggie and Abbey were rescued from animal industries, and featured in The Ghosts In Our Machine documentary. Since the film's release in 2013, their stories are touching hearts and educating people around the world about the dairy industry and about the use of animals for research. We asked Susie Coston, the National Shelter Director of Farm Sanctuary and the fearless, highly skilled woman in the film who rescues Fanny and Sonny from the dairy industry, and Melanie Dion, the beloved mom to Abbey and Maggie, who provides an amazing new life to her girls, helping them heal from past trauma.  Here is an update from both of them!
Thank you Susie and Melanie!
They are forever in our hearts. #ForTheGhosts. 
Sonny and Fanny have come such a long way in this short 3.5 years. Sonny arrived weighing around 60 pounds and was a sickly little guy and now he weighs around 2,100 pounds and is healthy and happy and still growing. They usually peak at around 4 years of age.Sonny has made many friends but still maintains an independent streak. He is currently challenging the herd leader- Travolta, who weighs a good 500-700 pounds more than Sonny and is taller, but Sonny is definitely vying for the spot. He is the smartest boy- figures out things before the rest of the herd. He also comes down to the barn even without the herd if he hears someone he is interested in seeing- usually me because he is in my top ten favorite beings on earth and he knows it. He is affectionate- will fall asleep with his head in your lap. He is playful- he loves to try to knock the bales of hay off the tractor when the guys are feeding the cattle. He has amazing friendships- he has taken Michael under his wing and still is super close with Conrad, Orlando, Tweed, Arnold and Milbank, who arrived a month after he did. This gang of Holsteins grew up together and are a very bonded crew. He moos when you call him. He stares longingly at you when you leave and he is the greatest cow guy I have known! So lucky he is in our world. I think about how just missing him by one day could have so easily happened. We almost went to the second stock yard and a day earlier- but because of that one small twist of fate this incredible individual is now a huge part of my life and the lives of so many. I feel truly blessed to know him.

Fanny- the mother and now the head of the special needs herd. She has come full circle. She had such a will when she was down at the stockyard. I remember thinking that I just wanted to get her so she could be put down in peace at Cornell and not lie with a bullet in her head and die slowly at the stockyard or be drug by a tractor to load her on a truck. It was all about a dignified end but in her case it was just the beginning. The ride home where the downer stood up and breathed in the fresh air out of the trailer- to be in a trailer with straw- clean straw- something she likely never had before. And then the second day when she was standing and mooing when she heard us come in. Unreal her strength. And for almost two years she limped- now she doesn't. She was on pain meds for two years- now she doesn't need them. She mothers and babies who come into the herd- bosses around the females and is in love with a giant. Her life is so her own. She moos when you come in the barn- and moos loudly. She is always announcing her presence. She gets the stink eye and paws the ground making guttural sounds when the main herd comes in the barn- warning each one not to touch her family- the special needs family- the elderly, the youngest and those who are not quite strong enough to join the bigger group. She is their champion and she is also ours. I think all the time about what an amazing mother she could have been to her babies- which now she can do with her adopted family. Another individual who fate and this film brought to us- and another individual I cannot imagine my life without!

Thank you for this incredible film- that I know has changed hearts and minds but that also saved two of my favorite beings on the earth!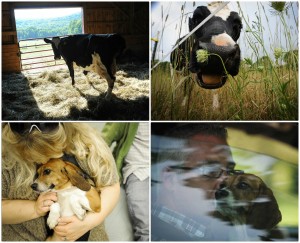 Since our journey alongside The Ghosts In Our Machine, both miss Maggie & miss Abbey have been a constant joy in my life. Lately, they've had a major change in their lives, but both have come through this with flying colours. A few minor "adjustments", but Maggie's back to her "miss independent" self again & Abbey, to her cuddlebug self. Both are the loves of my life and together, the 3 of us continue to grow together. Being such a major part of this ever moving documentary has changed my ways of thinking as well as my eating habits. I (we) have meet some amazing people along this journey and I'm amazed at how both girls are recognized from time to time… me on the other hand will always be "Abbey & Maggie's mom" (and I AM EXTREMELY PROUD TO REPLY "YES"!). Alongside TGIOM, I have an extended family whom I will cherish for ever.