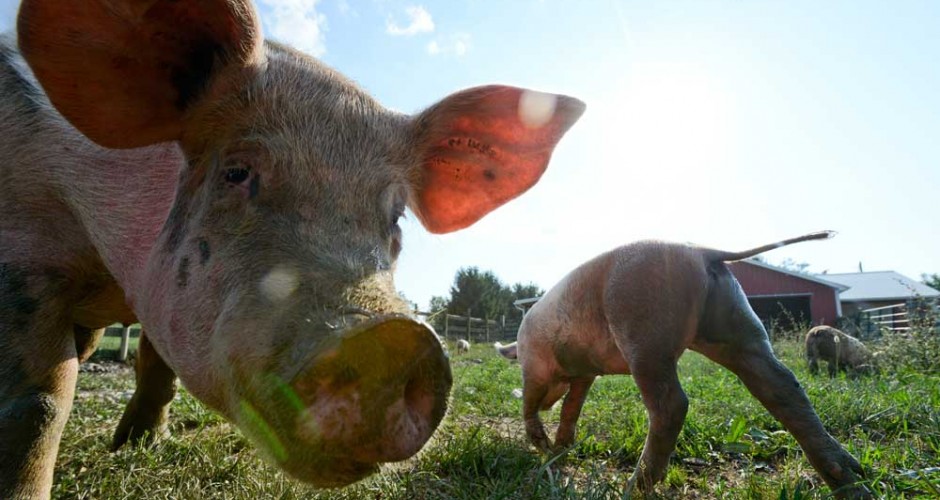 Julia and her son at Farm Sanctuary. Photograph: Jo-Anne McArthur. Summer 2012.
DONATE TO OUR INDIEGOGO CAMPAIGN
Watch our video to learn more and to meet
the director of The Ghosts In Our Machine.
Our social media metrics tell us that the U.S. is our #1 fan, so we are super determined and excited to bring the film to a diverse U.S. audience this fall, but we need your help.
Our campaign is a vital opportunity to make a genuine and significant impact, for the animals. There is an undeniable wave of consciousness emerging about the animal question, and about the horrors and insanity of the industrialized system, which has reduced billions of animals, annually, to bits and parts; tools for production.
THE GHOSTS IN OUR MACHINE is part of this zeitgeist
DONATE TO OUR INDIEGOGO CAMPAIGN
THE GHOSTS IN OUR MACHINE is an award-winning documentary about the moral significance of nonhuman animals. It illuminates the lives of individual animals living within and rescued from the machine of our modern world. Through the heart and photographic lens of celebrated animal photographer Jo-Anne McArthur, viewers become intimately familiar with a cast of animal subjects.
THE GHOSTS IN OUR MACHINE was conceived in 2010 and was recently released to sold out audiences at the International Hot Docs Documentary Film Festival in Toronto, and is making its way across Canada. You can read over 30 reviews here.
Thank you so much for your consideration.
For the Ghosts,
Liz, on behalf of the Ghosts team
Toronto