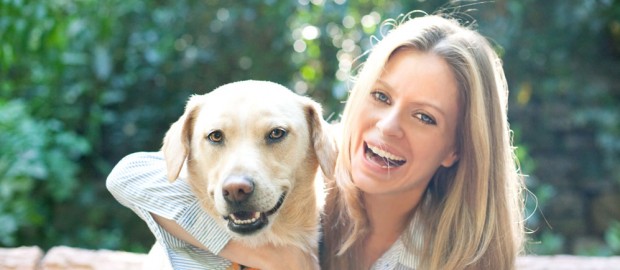 "This woman, Jo-Anne McArthur, has combined two things that are Hallmarks of my life: Art and valuing all life. To simply be a witness to beings surviving invisible lives is heroic. I think all of us know what it is like to be minimized, to be ignored, and to suffer in silence. Humans are good I believe, and I also believe all suffering takes place only because it happens out of sight. This woman has witnessed and acknowledged sentient beings who are forgotten. This could be one of the greatest gifts a human can give to another, especially the minimized and discarded. This is Mother Theresa stuff. Thank you Jo-Anne. I don't know how else we evolve to a kinder species than to stop and look and think. This film is an amazing vital work of art."
Kristin Bauer van Straten
Actress / Activist
Photo courtesy of Grace Chon

American film and television actress Kristin Bauer, who has been in the business since her early 20's, is most known for her role as Pam, the vampire co-owner of Bon Temps' Fangtasia bar, in True Blood. Born and raised in Wisconsin, Kristin had an idyllic childhood centered around nature and animals. In junior high she got interested in the arts, specifically drawing and painting, and after graduating high school Kristin completed three years of art school before moving to Los Angeles, California to pursue a career in acting.
Two years later she was hired to portray flight attendant Maggie Reynolds on the FOX comedy The Crew, which lasted for one season.
She then continued to play other series regular characters including Geneva Renault on the action drama Total Security, Candy Cooper in the CBS family drama That's Life, and the sexy, softball "porn mom" on the NBC comedy Hidden Hills. She has also guest starred on over 50 TV shows including Everybody Loves Raymond, Just Shoot Me as Ally George Segal's wife, Two and Half Men, Desperate Housewives, George Lopez, Less Than Perfect and as "Man Hands" Gillian on Seinfeld. In 2008, Alan Ball tapped her to play Vampire Pam on HBO's original drama True Blood.
Today she lives in Los Angeles with her musician, South African husband, Abri van Straten, two rescued dogs and two rescued cats. She splits her time between shooting, painting and trying to bring light to things that should not be happening. She works with IFAW, The Amanda Foundation, Oceana, PCRM and other charities. Nature and animals are her greatest passion as they "Have always given selflessly to me, so much more than I ever could have dreamed or given back. Mother nature is the greatest, most magical artist I have ever seen."
Read our Interview with Kristin Bauer van Straten.