Photo: from left to right: Tricia Stevens; Liz Marshall; Jennie Ridler

Hi everyone!
I had the pleasure of being in Vancouver during the LUSH Vancouver Ghost-Free Journey event that took place between Monday May 13th – Friday May 17th. I spent a day in the field with some LUSHies on Day-4 of their 5-Day Journey. It was fun!
To begin, I dropped by the LUSH store on Robson street and saw Kelly Davidson, Store Manager, a former Ghost-Free Journey participant, getting a facial.  I had to snap this photo with my iphone.
Then, I was offered a facial by Ghost-Free Journey participant Nicole Kaczorek.
Nicole is a "Key Holder" at LUSH, which means she is a leader in the store. She became vegetarian 8-years ago, because she loves animals, and had watched some PETA videos about factory farming. She chose to embark on the 5-Day Ghost-Free Journey because she was ready to make a shift and wanted the support.
Nicole attended the Vancouver Premiere of THE GHOSTS IN OUR MACHINE at the DOXA Documentary Film Festival, and in her own words: "The film facilitated the change to veganism for me. The film allowed me to see in a way that wasn't pushy, and I could make the connection between the dairy and veal industry. The film is philosophical and that was very effective for me, it made me think about animal use and animal rights."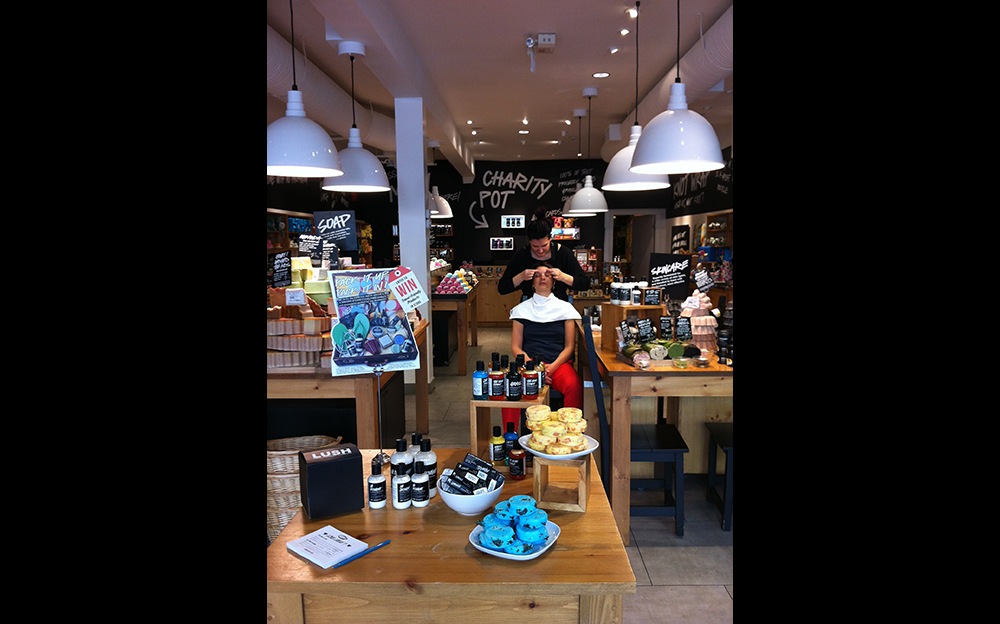 After a couple of hours at the LUSH store with some of the friendliest humans I have ever met (seriously, they are hired based on their ability to genuinely and positively interact with and inspire others), a few of us went to NICE SHOES – the only vegan shoe store in Canada. It is owned by two friends of mine, Glenn and Joanne.
Before the LUSHies came into the store, they went next door to FAIRY CAKES and bought gooey ghost-free cupcakes.
At NICE SHOES we tried shoes on, looked at vegan books, bags, belts and tshirts. We hung out with Joanne, the very nice owner. I got a new pair of very stylish boots but I don't have a photo, sorry. By the way, you can purchase our FOR THE GHOSTS tshirts at NICE SHOES.
My final destination was GRAZE, the new fabulous sumptuous over-the-top-delicious plant-based organic local restaurant. They grow herbs out back and collect and use rainwater too.
At 7pm about 40 of us all gathered at GRAZE: LUSH employees on the 5-Day Ghost-Free Journey; Jennie Ridler, a LUSH leader we adore and respect who is one of our esteemed Animal Ambassadors, and Tricia Stevens, a LUSH leader mover and shaker who makes a difference in the world for humans, the environment and for animals. We dined and hung out and discussed issues and ideas for a few hours. We ate several exciting dishes, including almond kale cheese, which is my favourite thing on the menu. I met and spoke with each of the GFJ participants. For some the GFJ was a brand new way of seeing the world, it was enriching and challenging. For others it was a significant step they had been wanting to take already, and our Ghost-Free Journey facilitated the opportunity. Thank you to the wise counsel of our Ghost-Free Journey Coaches Rosemary and Donna.
Check out the LUSH Vancouver Ghost-Free Journey photo album to see an assortment of images from my day with these wonderful people.
Check out the LUSH Vancouver Ghost-Free Journey

For the Ghosts,
Liz
Liz Marshall
DIRECTOR
PRODUCER
THE GHOSTS IN OUR MACHINE
Animals are hidden in the shadows of our highly mechanized world