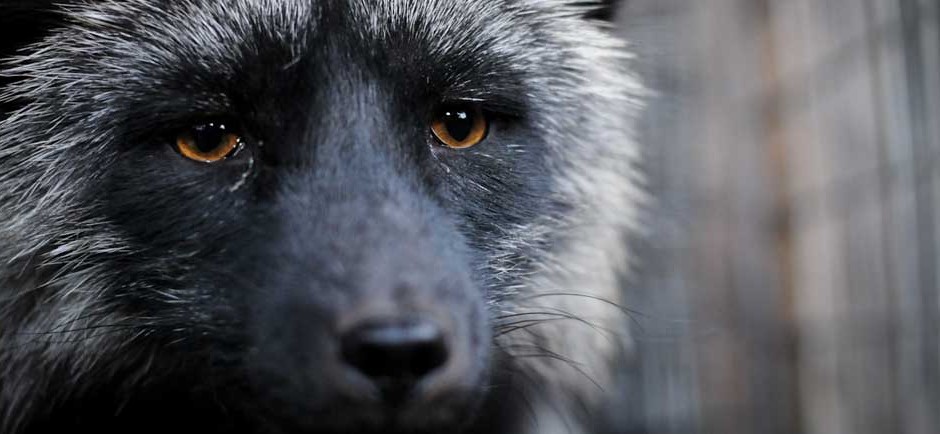 A fox confined to a small wire mesh cage in a crowded fur farm. Large litters of babies are born each spring and then slaughtered in November to December for luxury fur commodities: trims, hats, coats …   Photo by Jo-Anne McArthur for The Ghosts In Our Machine.
DIRECTOR'S BLOG – 11.12
ROUGH CUT
We recently completed the ROUGH CUT of the documentary. What a feat! It's been a long journey to get to this point: a year of filming and over 4 months of editing from 160 hours of gathered material! The artistry and sensitivity that our team has contributed to this project is palpable: cinematography, editing and music – beautiful and haunting.  Editor Rod Deogrades and I begin the next editing phase imminently.
Something I really look forward to is the audio design and mix. Sound will be a critical aspect of the final film, to help accentuate the animal characters, their experience, predicament and the environments they inhabit. It will add a very strong dimension to the viewing experience – helping to bring the animals into the room.
One scene where sound will be especially significant is an investigation that is featured in the film. We filmed fox, raccoon-dog and mink fur farms during the spring season when large litters of babies are born. We witnessed their living conditions and the suffering they endure  confined to small pathetic crowded and dirty wire-mesh cages, the piercing sounds of incessant crying, mutilation injuries and repetitive circling motions. Tragically, their mothers are breeding machines until they are no longer useful to the system. Later this month these babies we met will be slaughtered for their soft commoditized pelts.  The pelts are sold as luxury goods for fur trims, coats, hats … It is shocking but true, fur fashion is on the rise around the world.
The Ghosts In Our Machine has forever captured their soulful questioning tormented eyes, to share with the world.
For the ghosts,

Liz  Marshall
DIRECTOR // PRODUCER