Abbey is found. Photo courtesy of Tracey Shepherd Davis
The Ghosts In Our Machine project continues to grow, to raise awareness and to show people the faces of the ghosts too often forgotten. Facebook and twitter continue to be great hubs for the project to thrive and reach people around the world. Here are some highlights from October:
We have had over 158 "Likes" and a multitude of "shares" of this heavenly photograph by Jo-Anne McArthur of little Sonny walking through a field with Susie Coston, the National Shelter Director for Farm Sanctuary. This image reached over 1,000 people the week it was posted! That's absolutely incredible!
photo courtesy of Jo-Anne McArthur for The Ghosts In Our Machine. Summer 2012
Another highlight from this past month, and my personal favorite, was the unveiling of the latest LUSH Charity Pots. The 5-Day Ghost-Free Journey is one of the featured projects supported by LUSH and Fanny is on the lid! If you have been following the Ghosts project, you will know that Director Liz Marshall has been telling her rescue story as a way of talking about the film. The photograph used on the lid was taken by Jo-Anne McArthur the day of Fanny's rescue by Farm Sanctuary from an animal auction.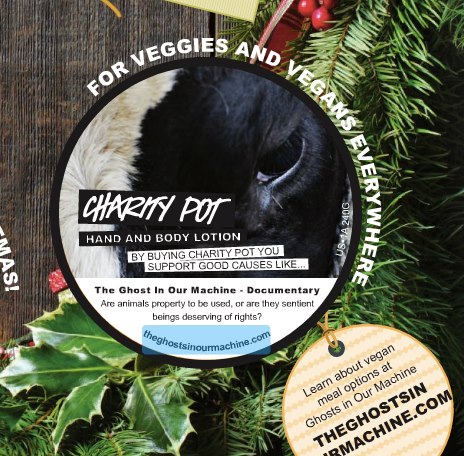 We had a scare this month too. Abbey, another one of the featured animal stories in The Ghosts In Our Machine documentary, went missing from her backyard … The outpouring of support online was ecouraging. Abbey's picture quickly circulated Facebook and Twitter and thankfully within hours she was reunited with her family, safe and sound and we could all rest well!
Here is Abbey ready for Halloween, as Wonder Woman! Til next month.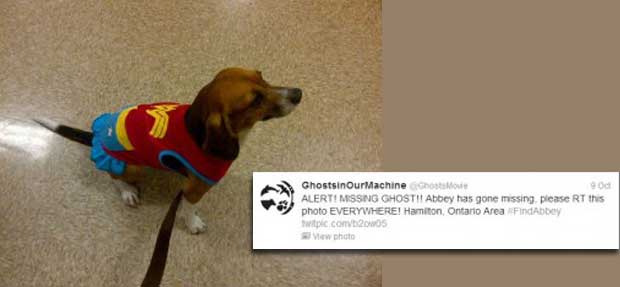 Abbey as Wonder Woman, Halloween 2012. Photo courtesy of Melanie Dion
For the Ghosts,
Danielle Legg