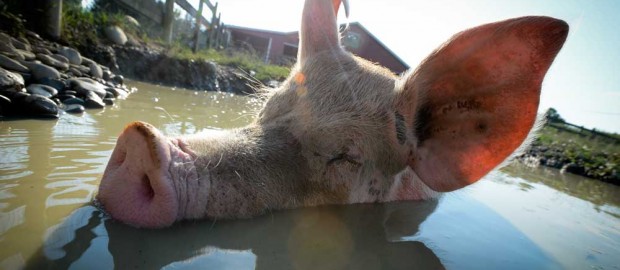 Julia's mud bath, Farm Sanctuary

My documentary work with animals attempts to cover a lot of ground but ultimately, it's about illuminating the lives of individuals and sharing their personal stories. While we filmed The Ghosts in Our Machine, we met some animals who lived in sheds by the thousands, like at the mink farms. But we also met individuals whom I've often recalled and some whom I've had the great pleasure of seeing again.
A lot of those animals are still where we left them. The fur-bearers are in their cages, being inseminated and producing more young, who are killed for "pelts". The dolphins continue to swim circles in their tanks. The chimps are still being stared at, at the zoo. None are ever far from my mind. It's some comfort that, through mine and Liz' work, the animals aren't as far from the minds of many others too. The Ghosts in Our Machine is part of the ever-growing movement to recognize non-human animals as sentient and inherently deserving of rights. I'm grateful to be a part of this movement.
There are some wonderful characters from the Ghosts film that I'm pleased to report are doing splendidly. You'll see some of their photos in this gallery. Maggie and Abbey, the adopted beagles, have a wonderful and fun life with their human care givers, Mark and Melanie Dion. Sonny and Fanny, a veal calf and a dairy cow respectively, who were rescued by Farm Sanctuary, continue to thrive with other bovine friends in fields of grass. Julia the pig was also rescued by the Farm and she is just about the most charming and friendly pig I have ever met. When I visit Farm Sanctuary I always make some time to spend with just her. We lie in the straw together and grunt at each other – it's all very friendly! – and I give her soothing pats and belly rubs.
Change is happening. I get to document many examples of this all the time; it's a positive balance to the horror I witness where animals of all kinds are kept captive. The trucks carrying pigs to slaughter continue to rumble into Toronto, but Toronto Pig Save has grown tremendously. During the heat wave this summer, compassionate people came to "Pig Island" (a median along the highway where we bear witness to the pigs going to slaughter) to give water to the pigs in the trucks. On one occasion, I was incredibly moved to see that one of the transport drivers didn't take his left turn on the green light so that we activists could have more time to be with and give water to the suffering animals inside.
I hope you'll find some personal meaning in the photos within this GALLERY. They are stories of sadness and of hope; stories that need to be seen, heard and shared.
For the Ghosts,
Jo
Jo-Anne McArthur
Photographer We Animals
Protagonist, The Ghosts In Our Machine