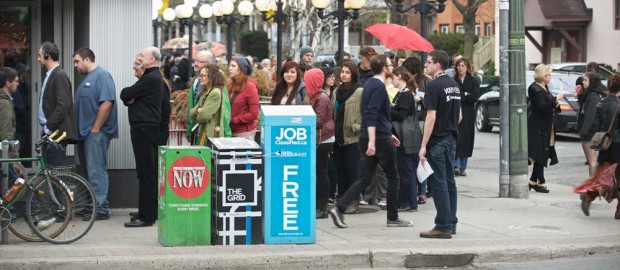 Photo of the Rush line up the evening of the World Premiere  of  THE GHOSTS IN OUR MACHINE at the Hot Docs Film Festival (a sold out event). This photo is chosen today because at one time or another, people in this line experienced what we are about to discuss. But here we all are – united and celebrating.
Day 5 already! Siobahn, it has been a true pleasure to be a part of your journey. We have covered so many topics this week and we have been truly fortunate to have had Victoria Moran join us yesterday. For anyone who didn't follow Day 4, we encourage you to read what Victoria has written about the topics of why some vegans revert to eating meat, and the issues surrounding what to feed our companion animals.
Today the focus will be on society's reception to vegans. Siobhan would like to discuss the negative comments and criticism that often comes from friends, acquaintances  and family members when one decides to lead a vegan life. In Siobhan's words " There seems to be a lot of vegan haters out there, and a lot of people hold the belief that vegans are smug and pushy people who try to force their beliefs onto everyone…How do you deal with all the vegan haters?"

Siobhan, can you tell us more about any backlash that you have been getting? Are any of your friends or family members supportive of your journey?
For the Ghosts,
Mentors Donna and Rosemary
The opinions we express as GFJ Mentors are ours personally. We are not professional health practitioners.  Neither are we treating a specific health care issue.  That means we are not offering advice on health-care problems. If you  are experiencing a health-care problem, it is important to seek the advice of a health professional. However we are experienced, practicing vegans and we look forward to coaching you on your journey.