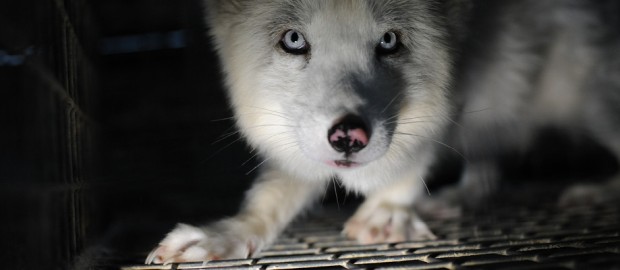 Genre Documentary
Rating NR
Syndicado Inc. Announces Acquisition of Director Liz Marshall's The Ghosts in our Machine for VOD and Digital Distribution in the USA.
(October 31, 2013 – Toronto Canada) Syndicado Inc., a leading VOD aggregator and digital distributor is pleased to announce the acquisition of the award winning and critically acclaimed documentary, The Ghosts in our Machine. Produced by Liz Marshall and Nina Beveridge, this acquisition marks Syndicado's strategic growth in acquiring and distributing festival run favorites leading to theatrical release.
Featuring acclaimed animal photographer Jo-Anne McArthur, Marshall directs The Ghosts In Our Machine through the heart and lens of McArthur. This consciousness-raising documentary shines a cinematic light on the animals we don't easily acknowledge. With dramatic impact the film gently reveals a stark reality hidden from our view: the "ghosts" are commodities within the machine of our modern world.
"After seeing the film and following its tremendous audience response, we were delighted to be able to acquire the film for VOD and other digital platforms in our core US market," says Greg Rubidge, President of Syndicado. "Our first and foremost commitment was to the film and subject matter that Ghosts' deals with, and a common vision that broad distribution could help generate a change in society."
Over the course of a year, award-winning Director Marshall follows McArthur as she photographs several animal stories in parts of Canada, the U.S. and in Europe. Each story is a window into global animal industries: Food, Fashion, Entertainment and Research. All part of an epic photo project We Animals (www.weanimals.org) now in its 15th year and shot all over the globe, McArthur has documented the lives of animals with heart-breaking empathic vividness and professionalism.
"We specifically carved out digital rights because we knew that documentaries have been experiencing great success online and that our film has such an impassioned audience, digital was a key strategy to reach that audience." Said Nina Beveridge, Marshall's producing partner on The Ghosts in Our Machine. "We chose Syndicado as our digital partner for the USA because of the breadth of major distribution partners they serve and Greg's shared interest and commitment to the film and to the social movement advancing the issues." Said Director Liz Marshall.
The film has its theatrical debut in New York, NY at the East Village Cinema November 8th to November 13, 2013, 6 screenings daily, before heading to Los Angeles Laemmle Theatre, Music Hall 3, Beverly Hills November 15th – 21st: 3 screenings daily.
About Syndicado
Syndicado is a digital distribution company focused on feature length documentaries and factual TV programming for launch on digital platforms such as Internet, cable VOD, and mobile. The company partners with traditional distributors, producers and sale agents to manage all aspects of digital distribution, strategy and marketing, on the leading digital service providers in North America and Europe. The company's expertise and business model allow distributors and other rights holders a cost effective strategy to fully exploit emerging digital opportunities, while remaining focused on their core business.
Contact: Tascia Barile tascia@syndicado.com (917)-651-2589
The Ghosts In Our Machine is produced by Nina Beveridge (The Idealist -James Beveridge Film Guru; The Calling) and Liz Marshall through their Toronto based company Ghosts Media Inc. It is produced in Association with documentary, Commissioning Editor is Bruce Cowley. Edited by Roland Schlimme and Roderick Deogrades, Cinematography by John Price, Iris Ng, Nick de Pencier, Liz Marshall. Original music score by Bob Wiseman. Sound team is Jason Milligan, Garrett Kerr and Daniel Pellerin. Executive Producer is Mila Aung-Thwin.
American Publicist
BGPR Brian Geldin, (917) 549-2953, briangeldin@gmail.com
GAT Ingrid Hamilton, (416) 731-3034, ingrid@gat.ca