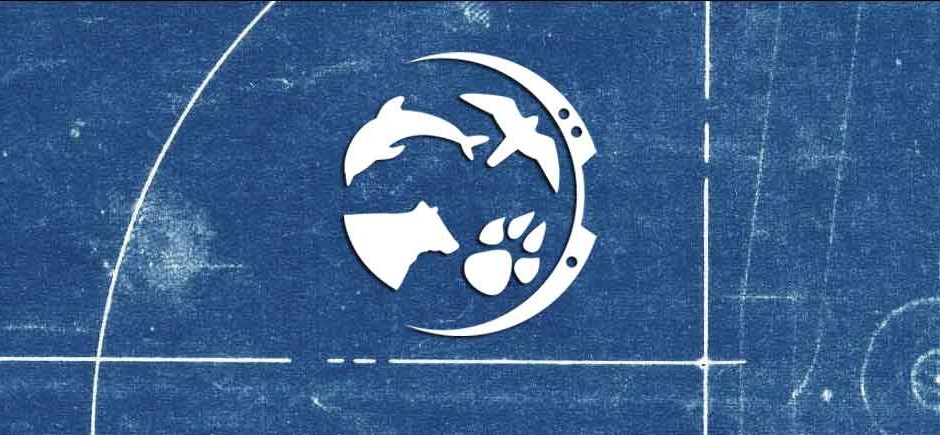 Toronto, June 6, 2012 – Ghosts Media Inc. proudly launches a new magazine-themed website: https://www.theghostsinourmachine.com to mark an exciting milestone for  The Ghosts In Our Machine, a character-driven, cross-platform documentary featuring animal rights photographer Jo-Anne McArthur. The film poses the moral question: Are animals property to be owned and used, or are animals sentient beings deserving of rights?
The website's new logo (above) signals the beginning of a creative partnership with celebrated interactive art directors, The Goggles. Their 2010 interactive documentary, Welcome to Pine Point, captured two Webby Awards (the Oscars of the internet). Previously, The Goggles had earned acclaim as the creative directors of Adbusters magazine.
"We are excited to unveil a more robust online presence, which offers greater opportunity for content sharing and dialogue. We are sending the message that we are live and steadily unfolding." explains Ghosts director, writer and producer Liz Marshall. "The Goggles are the creators of an upcoming online Immersive Story, which will be a companion to the feature documentary. It will prominently feature on our website in early 2013."
 The Ghosts In Our Machine documentary is halfway through production and will soon enter the editing phase. Release is slated for 2013. For several years, Marshall had been conceptualizing a cross-media documentary about the moral significance of animals. She started talking with photographer Jo-Anne McArthur about her images in the fall of 2010, at which time Marshall invited her to be the main human subject of the film. "The connection that I have to animals while I'm photographing them is one of empathy," explains McArthur. "There is a huge mistreatment and inequality between human and non-human animals, and that's always in the forefront of my mind." Adds Marshall, "Through the heart and photographic lens of protagonist Jo-Anne McArthur we become intimately familiar with a small cast of animal characters."
Increasingly, documentarians are using the World Wide Web to build an audience leading up to the release of their films. Since the project's beginnings in 2011, The Ghosts In Our Machine has utilized several social media platforms to attract a broad spectrum of animal lovers from all over the world. To date, Ghosts has attracted over 2,000 followers on Facebook. "We recently initiated our first online t-shirt vote," beams Ghosts producer Nina Beveridge, "and we are happy to present the winning design that our community chose!" The winning FOR THE GHOSTS t-shirt by New York graphic designer Michele Gorham is now on sale at the online store.
The Ghost Free Journey (GFJ) kicks off in mid-July on the Ghosts website. The GFJ is a bi-monthly activity that has previously taken place on the Ghosts Facebook wall. It is led by fans Donna Oakes and Rosemary Tarentino Foos who function as online coaches: "We gently guide an individual on a memorable and customized vegan journey. The GFJ is designed to inspire and educate a broad demographic about the value of becoming a conscious consumer, for the Ghosts."
Director Marshall's 2010 theatrical and broadcast documentary Water On The Table, about water-warrior Maude Barlow's crusade to have water declared a human right, has been celebrated at the Gemini Awards, the Planet in Focus Environmental Film Festival, the Cinema Politica network and the Environmental Media Association Awards. "I am a fan of filmmaker Liz Marshall's Water On The Table," declares actor Woody Harrelson. "I don't doubt that The Ghosts In Our Machine will be as important and well done." Producer Nina Beveridge has earned a Gemini Award for Outstanding Technical Achievement and a nomination for Best Cross-Platform Project for Pop It!. Executive producer Mila Aung-Thwin, has premiered such films as Up The Yangtze and Last Train Home at Sundance and Hot Docs, and captured several awards at festivals including IDFA. Similarly, editor Roland Schlimme has cut internationally acclaimed films Petropolis and Manufactured Landscapes. Composer Bob Wiseman has won Juno awards and CBC lifetime achievement awards. "It's great to collaborate with an A-team who is sensitive to the subject matter.," says Marshall who is wrapping up production this summer with cinematographers John Price, Iris Ng, Nick de Pencier and sound-recordist Jason Milligan.
Ghosts Media Inc. would like to thank its partners for their invaluable support:
The Ghosts In Our Machine is commissioned by documentary channel, and produced with the support of the Bell Broadcast and New Media Fund, Canada Media Fund, Shaw Media-Hot Docs Fund, Films Transit International, and the documentary Giving Voice: Filmmakers Working With Filmmakers Program. Ghosts Media Inc. is also proud to announce that LUSH Handmade Cosmetics and VegFund are supporters of the Ghost Free Journey.
. – 30 –
CONTACT:
Liz Marshall and Nina Beveridge
info@theghostsinourmachine.com
www.theghostsinourmachine.com