AwareGuide Announces Top Transformational Films of 2013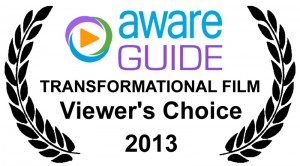 February 4, 2014
The AwareGuide, the guide to life changing media, announced the results of the Top Transformational Films of 2013. The top films were selected as Viewer's Choice and Editor's Choice from the 33 films that were included in the voting, which included 5 films that were on this year's Academy Award shortlist. Awards were also selected by the Editors in the categories of Impact, Inspiration, Youth, and Solutions.
"A Transformational film" according to AwareGuide founder and CEO, Gary Tomchuk, "seeks to inspire the movement of society towards ideals, values and practices that create a better world for everyone. They focus on solutions for subjects such as: Consciousness, Environment, Health, and Social Issues."
The Viewer's Choice Award winners were selected by over 15,000 people from more than 50 countries that voted. The voting was very competitive with the top films changing the lead several times. With the close voting and some technical challenges both Take Back Your Power and The Ghosts in Our Machine have been awarded the Viewer's Choice Award. The complete results for all the films in the voting can be found on the AwareGuide website.
The Top Transformational Films of 2013 Viewer's Choice top 10 are:
1. The Ghosts in Our Machine (Tie)
1. Take Back Your Power (Tie)
3. Blackfish
4. GMO OMG
5. The Paw Project
6. Gasland 2
7. Occupy Love
8. The Crash Reel
9. How I Became an Elephant
10. More Than Honey