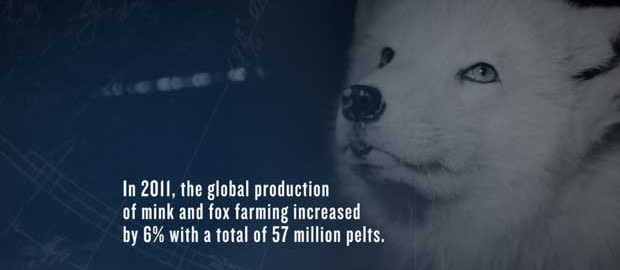 #fortheghosts
02.03.14
An Open Letter
By Director/Producer Liz Marshall 
Hi folks!
2013 was a year of high profile premieres for THE GHOSTS IN OUR MACHINE, the cross-platform documentary that is "changing the way the world sees animals". From festivals, theatrical and broadcast exposure to critical reviews, a robust social media presence,  traction among advocates and celebrities to strong partnerships with NGOs, GHOSTS has carved out a unique reputation among documentary films, attracting a broad and diverse audience to the emerging subject of animal sentience and the challenging subject of animal use.
2014 marks a new chapter in the life of THE GHOSTS IN OUR MACHINE, the project I have devoted myself to since 2010. There is growing demand for the film among core audiences and we're excited to announce that 2014 will see the gradual rollout of a global Community Screenings Campaign called #fortheghosts. My company LizMars Productions is handling the distribution of Community Screenings — think of it as an unplugged version of our 2013 release efforts. We are a small team and appreciate your patience as we continue to streamline the process to help you make it happen! We have  some exciting premieres and events coming up, please visit the films screenings page often for updates.
Over the years I've developed a keen understanding of hybrid distribution strategies, and a special interest in audience engagement and grassroots distribution. I'm inspired and amazed by the collaborative efforts among filmmakers, activists, communities and effective organizations in furthering the impact of social-justice issues through the power of film. Increasingly, documentaries spur and heighten social movements. Through our #fortheghosts Community Screenings initiative THE GHOSTS IN OUR MACHINE will be available as a consciousness-raising tool, towards a paradigm shift for nonhuman animals.
In 2013 photographer/protagonist Jo-Anne McArthur and I engaged in over 30 in-depth Q&As with diverse audiences; likewise, 2014 is poised to be another active year for coalition-building among NGO partners and for dialogue among both core audiences and those not yet engaged with the issues. We are excited to attend some select screenings, and Jo is also releasing her highly anticipated book We Animals – hot off the press!
Read on, I have tried to address your main questions about how to host a screening of GHOSTS  … thanks, and we'll see you soon!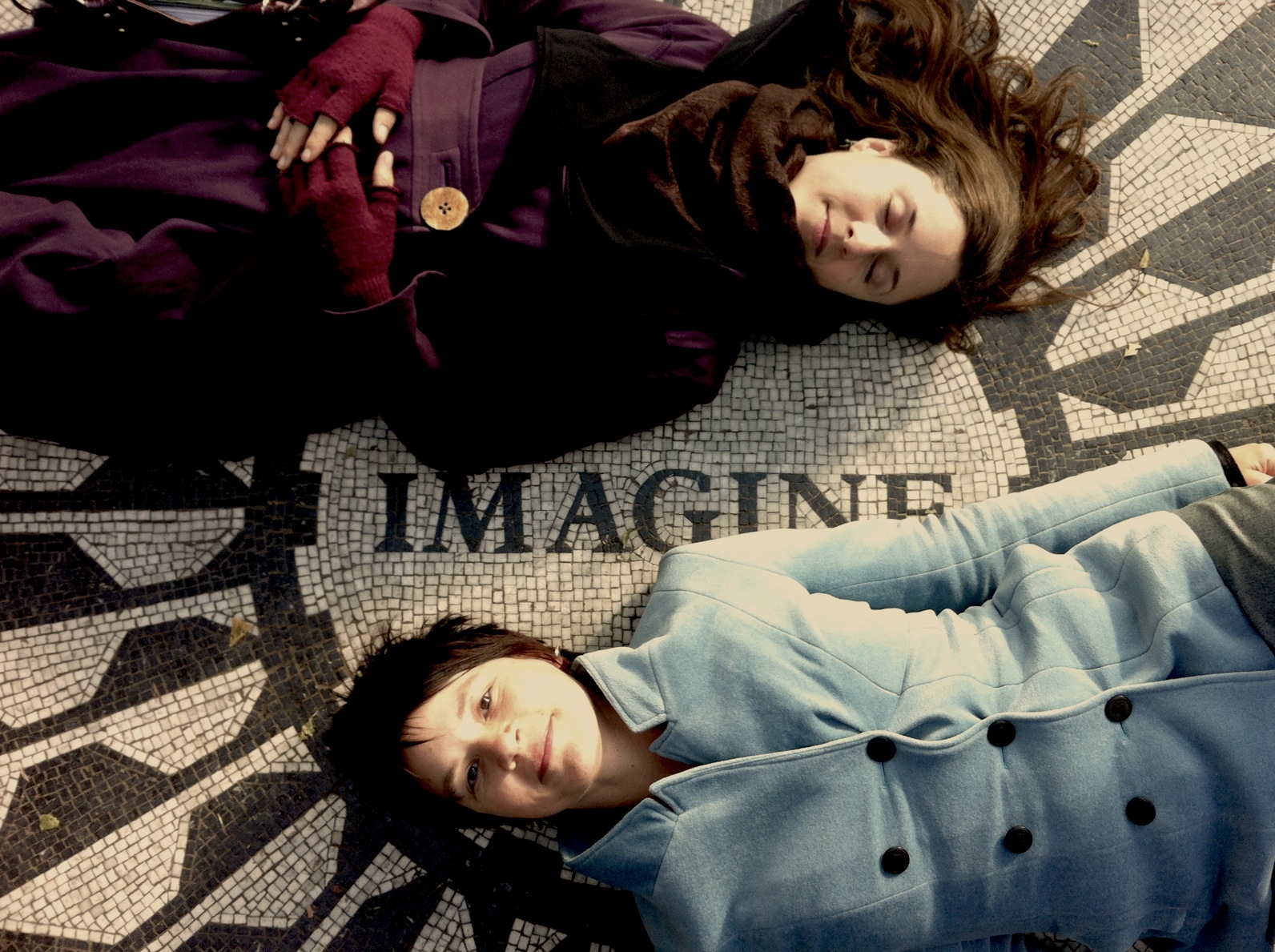 Liz Marshall and Jo-Anne McArthur. Strawberry Fields, NYC. 2013
WHAT IS A COMMUNITY SCREENING?
We will make the film available to "hosts" (individuals or organizations) for one-off or multiple screenings, special events such as conferences, fundraisers, and strategic screening tours. Community Screenings include (but are not limited to) animal rights, welfare, advocacy, rescue, rehabilitation groups, human rights, environmental rights, social justice groups, businesses, cultural, religious groups, school clubs and on-campus organizations. The screenings can be held in any type of traditional or non-traditional venue showing or exhibiting the film to an audience that may or may not pay an admission fee.
We are proud to partner with so many stellar international organizations.
Check out our Partners page.
Community Screenings are inspiring, they come in many forms: an intimate gathering of 25 likeminded people; a fundraiser for an animal sanctuary; a screening followed by a moderated townhall debate; a 500-seat state of the art auditorium with guest speakers and panelists. What makes a Community Screening special and important is the dialogue, bridge-building and action that follows…
TIPS AND TOOLS FOR HOSTS: HOW TO HOST A SUCCESSFUL SCREENING
In addition to the film itself, we offer a few helpful downloadable tools for hosts, including a comprehensive Tips For Hosts checklist. We urge everyone interested in hosting a screening to read it before contacting us! We provide a sample Press Release and a downloadable Press Kit, to encourage hosts to promote their event! Visit our Tips and Tools page. 
IS THE FILM FREE? 
Community Screenings require a Public Performance Rights license (PPR). When you license (rent) the film from us you'll receive a copy of the film with the copyright permissions necessary to present the film in an institutional, community, campus or public setting. Our license fee is a standard (sliding scale) cost. We work with you to fit your budget. Some people think that the film should be widely available at this time for free, and inevitably it will be at some point, but right now GHOSTS is a new film being distributed professionally through various channels around the world, to reach a broad and diverse audience.
As a note, the film is (and will be) available in other ways over the next year, such as for personal digital download, broadcast, home video DVD (for personal use) and educational (for the classroom). Visit the Ghosts website, subscribe to our monthly e-newsletter for updates. We (Ghosts Media – myself and fellow producer Nina Beveridge) have ongoing news to share in the coming weeks and months, so stay tuned.).
APPLY FOR A VEGFUND GRANT TODAY: HOST A COMMUNITY SCREENING 
We are really pleased to announce a partnership with the VegFund. VegFund empowers vegan activists worldwide by funding and supporting effective outreach activities that inspire people to choose and maintain a vegan lifestyle. Eligible individuals and organizations can apply today for a VegFund grant to help fund a Community Screening of THE GHOSTS IN OUR MACHINE for 20 to 500+ people:  mixing fun, community, and learning.
Be sure to read the VegFund Screenings guidelines BEFORE filling out the VegFund online application form. In a nutshell, VegFund grants are:
– For venues, the film's licensing fee, food samples and literature (not for speaking fees, travel, lodging, etc).
– Their grants are reimbursement based, with proof of event required, including all receipts.
US applicants: Please submit your application at least two weeks before your event date.
Applicants outside the United States: Please submit at least four weeks prior to the event date.
 JOIN OUR  #fortheghosts MOVEMENT
Up your social game! Prominently utilize our hashtag #fortheghosts on social media channels with the goal of trending. Download our profile and banner images and wear them as your Facebook, Instagram, Twitter etc. profile or cover images in solidarity, #fortheghosts. It's fun!  😎

GOING FURTHER
LizMars Productions is accepting donations towards its #fortheghosts Community Screenings Campaign. Visit our Donate page.
If you are from the U.S. and would like to make a U.S. tax-deductible donation, you can do so through our U.S. fiscal sponsor Women Make Movies. 


Thanks for your heartfelt support, passion, motivation and commitment towards a better world.
We're looking forward to a great year together!
For the Ghosts,
Liz
Liz Marshall 
Director, Producer, Writer
Ghosts Media / LizMars Productions