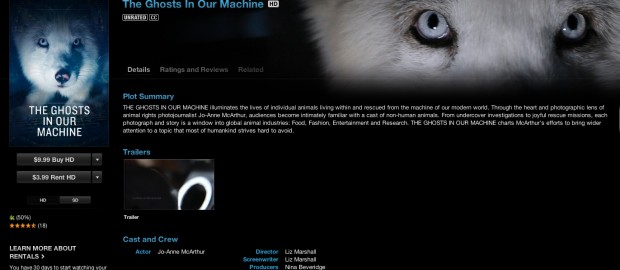 The Ghosts In Our Machine is now widely available
in five major languages
03.23.15 – Toronto
Ghosts Media is pleased to announce the release of The Ghosts In Our Machine in French, German, Portuguese and Spanish. Since April of 2013, the film has been widely available in English.
Thanks to the generous support of the experienced translators who offered their services in support of the film.
Find your country on our WATCH NOW page, and click on the viewing option you prefer.

Syndicado releases The Ghosts In Our Machine on iTunes in the following countries:
Argentina
Bolivia
Brazil
Chile
Costa Rica
Colombia
Dominican Republic
El Salvador
Ecuador
France
Germany
Guatemala
Honduras
Italy
Mexico
Nicaragua
Panama
Paraguay
Spain
Thanks for your support.
The Ghosts Media Team
Toronto