On May 8th, 2014, NEAVS (New England Anti-Vivisection Society) hosted our long-awaited Boston Premiere for an audience of 200 at the Landmark Cinemas in Cambridge, MA. An excellent event, and a friendship we are proud of.
For me, the day began arriving in Boston from Toronto and making my way to the NEAVS' office on the metro. The NEAVS' office is located in an old-world New England jewelers building, so I immediately felt a sense of  history. There, I met up with Jo-Anne McArthur (Jo) and with Dr. Capaldo, CEO of NEAVS,  and with the staff. We were given a tour of the offices, and marveled at some century-old historical artifacts, such as original NEAVS' documents, books and a wax seal.  NEAVS was founded in 1895.
From the NEAVS' website:
Since its inception, NEAVS has used a variety of means toward ending the oppression of animals in science including:
Cultivating public outreach and education
Encouraging purchase of cruelty-free products
Exposing animal research, labs or companies
Funding the development and validation of non-animal testing
Helping to pass laws that protect students' rights to dissection choice
Supporting animal sanctuaries
Working with federal agencies for policy change that mandates alternatives to animal use
This Boston screening of The Ghosts In Our Machine was in the works for a year, since Dr. Capaldo  introduced our World Premiere at the Hot Docs Film Festival in Toronto on April 28th 2013!  It didn't happen during our limited US theatrical release in the fall of 2013 because the theatre would not book the film, so we decided to wait until the spring of 2014, and NEAVS would officially host/sponsor our Boston Premiere.
I interviewed Dr. Capaldo in 2012 during production. I was struggling with the "purpose-bred beagle" story. I had my beagle rescue story of Maggie and Abbey in the can, but needed some hard hitting context about the use of beagles within the biomedical research industry — information that is difficult to access.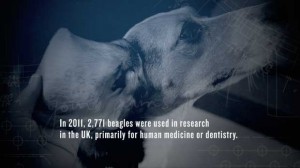 The film features Dr. Capaldo's voice explaining why the research industry breeds and uses beagles, her voice punctuates a clandestine scene (undercover footage provided by PETA) where we see tail-wagging beagles carted down a sterile chamber into a lab.
There is so much gold (content) that didn't make the final cut. Here's an excerpt from the interview transcript – bold parts were noted for possible use:
[01:04:40.20] CAPALDO: Beagles are typically used in vet schools for two reasons: one was called terminal lab which was where students practiced their surgical skills and in the old days they would use a beagle throughout the semester for repeated use, for what was called recovery surgery. They would practice breaking and setting a bone and the dog would recover and then three weeks later they would practice a gastropexy on the dog – which is where you staple the stomach to the abdominal wall because some dogs can get that twisting which is potentially fatal to them and then the dog would recover [01:05:25.04],  we put an end to that. We put an end to what was called recovery surgery and multiple use, so what vet schools started to do was: you had a beagle you were assigned to in the morning, you did various procedures on him/her and then that afternoon you euthanized him/her. Another use of dogs in veterinary schools is to teach clinical skills, so you learn how to insert an IV, take blood, do dental work, do an anal exam etc. The change that has happened in veterinary schools is quite impressive and it began somewhere in the late 80s early 90s, the first was here in New England, we (NEAVS) were a part of that campaign. [01:06:19.23]
Moderated by Dr. C,  with myself and photographer/protagonist Jo-Anne McArthur, our post-screening Q&A was thoughtful and engaged (we wouldn't expect anything less from such an uber smart town), with an audience comprised of lawyers, students, activists and families, and of course many NEAVS' supporters.
Please spend a few moments, you will thank me for it, to explore the NEAVS' website. It is one of the most educational, well thought through, researched and  eye-opening websites I have visited. Everything you want and need to know, to have in your arsenal for a good debate with those who argue in favour of animal testing. It is well presented and undeniably authoritative.
NEAVS' Mission
: 
Founded in 1895, the New England Anti-Vivisection Society (NEAVS) is a Boston-based, national animal advocacy organization dedicated to ending the use of animals in research, testing, and science education. Through research, outreach, education, legislation, litigation, and policy change, NEAVS advocates for replacing animals with modern alternatives that are ethically, humanely, and scientifically superior.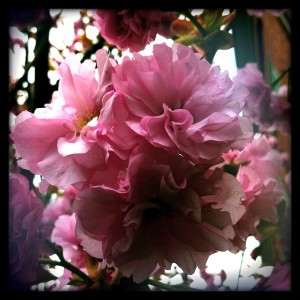 After a long and drawn out winter up here in Canada, Jo and I had a taste of spring in Massachusetts, with friends doing profoundly good work in the world. Inspiration for the soul. #Lucky.
For the Ghosts,
Liz
Liz Marshall
Director/Producer
LizMars Productions / Ghosts Media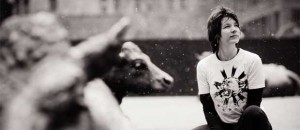 .