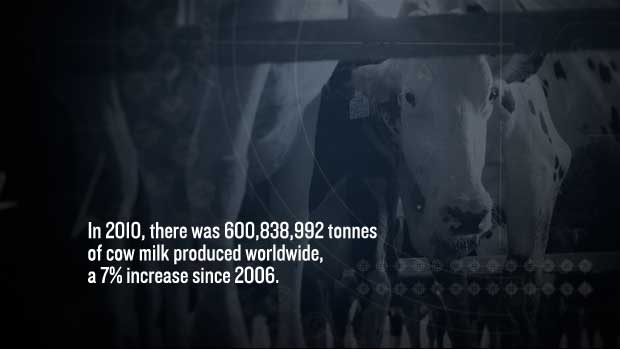 American Veal Association
America's veal farmers know they have an obligation to provide for the well-being of our animals because it's the right thing to do. Typical veal farms in the U.S. are small, family farms operated with the values that have guided farmers for generations—quality animal care and responsible farm management.
Animal Australia
Animals Australia's vision is a world where all animals are treated with compassion and respect and are free from cruelty.
Canadian Dairy Information Centre
Canadian milk and dairy products are as diverse as Canada's land and people and are world-renowned for their excellence. Enforcement of strict quality standards on dairy farms and in processing plants enhances this international reputation, along with a strong commitment to sound animal welfare practices and environmental sustainability.
Temple Grandin
Dr. Temple Grandin's Blog, which includes her books and other published works
Compassion in World Farming
Today we campaign peacefully to end all cruel factory farming practices. We believe that the biggest cause of cruelty on the planet deserves a focused, specialized approach.
With less than 2 percent of the U.S. population involved in farming today, many people don't have the opportunity to visit a dairy farm. Add the fact that most people are three to four generations removed from the farm, and a pretty big information gap has evolved.
EarthSave
Earthsave Canada is a non-profit, educational organization promoting awareness of the environmental, ethical and health consequences of our food choices. We advocate the move towards a more whole foods, plant-based diet for environmental sustainability, better health, and compassion toward all animals.
Mercy For Animals
MFA works to create a society where all animals are treated with the compassion and respect they so rightfully deserve.We serve as a voice for animals through proactive consumer education initiatives, cruelty investigations, corporate outreach, and legal advocacy.
PCRM
Physicians For Responsible Medicine is a nonprofit organization that promotes preventive medicine, conducts clinical research, and encourages higher standards for ethics and effectiveness in research.
PETA
People for the Ethical Treatment of Animals focuses its attention on the four areas in which the largest numbers of animals suffer the most intensely for the longest periods of time: on factory farms, in the clothing trade, in laboratories, and in the entertainment industry. We also work on a variety of other issues, including the cruel killing of beavers, birds, and other "pests" as well as cruelty to domesticated animals.
Refuge RR for Horses
A Canadian horse sanctuary.
Snooters
A Canadian farmed animal sanctuary
Vegans International Voice for Animals- VIVA!
Registered charity and believes that the solution to all these problems is in our own hands: the best way to stop the destruction and the cruelty is to stop eating animals now – go vegetarian, or better still, vegan.
LEARN MORE